The Morton
It looks like a quaint little abode - with its board-and-batten siding, cedar shingle detailing, and columned covered porch - but even a quick peek inside will prove that there is much more to this plan than meets the eye. Begin with the entry foyer, which rises to a nine-foot ceiling. On one side is a washer/dryer alcove with a closet across the way; on the other is another large storage area. Just down the hallway is a third closet (can you ever have too many?). The kitchen and dining area also boast nine-foot ceilings and are open to a vaulted great room with corner fireplace. Sliding doors in the dining area lead to a covered side porch (al fresco dining, anyone?). The kitchen features a center island, built-in desk/work center and pantry. Three bedrooms (or two plus an office) are found on the right side of the plan. The master salon has a vaulted ceiling; Bedrooms 2 and 3 have nine-foot ceilings. The master bath is wonderfully appointed with a separate shower, spa tub and dual sinks. The two-car garage features an additional bay for a workshop or more vehicles.
Architectural Styles Associated with this design
Cottage
This home is typical of the cottage style. In modern usage, a cottage is usually a modest, often cozy dwelling, typically in a rural or semi-rural location. However there are cottage-style dwellings in cities, and in places such as Canada the term exists with no connotations of size at all (cf. vicarage or hermitage). In the United Kingdom the term cottage also tends to denote rural dwellings of traditional build, although it can also be applied to dwellings of modern construction which are designed to resemble traditional ones ("mock cottages").
Craftsman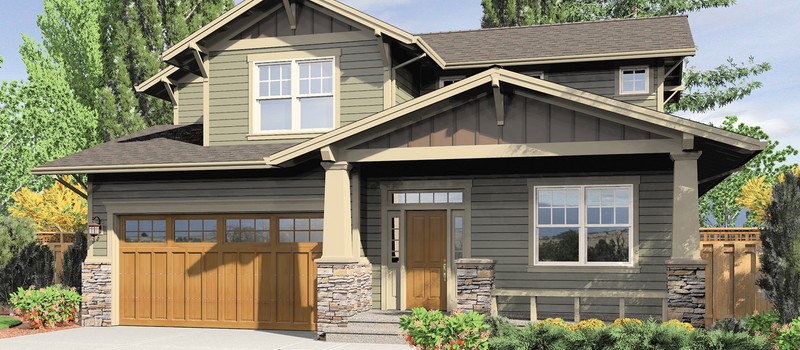 The Mascord collection of craftsman house plans highlight features that were first introduced with the Arts and Crafts movement, which thrived from 1876-1915, and continues to be celebrated today. These homes have great curb appeal, lots of detail and the amenities you need for modern living. Check out the collection for more great home designs.