Marketing Your Home
Are you selling a Mascord designed home, or looking to develop an empty lot? We have some tools and resources which may help!
Whether you've finished construction and are listing your home for sale or are looking for images to promote construction and development services you offer, we have some fantastic resources to help you market your Mascord designed home.
Material for Published Plans:
Published plans are plans which appear on this website and are actively marketed by us. Renderings and floor plan images for these designs have been developed prior to use and should be available for inclusion in the following products more-or-less immediately.
Material for Unpublished or Custom Designs:
If you're building a Mascord home which has been modified from the original version or have had a Mascord design created for you from scratch, we'd recommend you have graphics created which accurately represent your home.
Custom Renderings and Floor Plan Graphics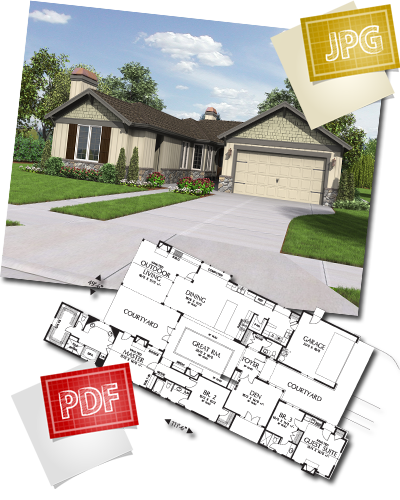 A B&W marketing floor plan graphic that correctly depicts your custom or modified Mascord home plan costs $50.

Custom renderings range in price depending on the scope of work needed. Small changes to existing designs (including color changes) start at $50, with more complex changes costing $150 - $350.
The cost of creating renderings from scratch can be $350 - $500, depending on complexity, landscape, and other factors.
From $50 and up | Call to Discuss
More Articles