House Plan of the Week
The Mascord Collection of pre-designed house plans features proven home designs loved by their occupants and builders alike. Livable, buildable and sellable - these homes have much more than curb appeal in their favor. The Mascord team of experienced home designers deliver amenities and functionality that today's home buyers desire. Here we feature the new and most loved designs in the collection of over 750 designs.
The Burbank - An Elegant Contemporary Home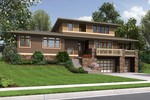 Published: August 8, 2014
If you love contemporary designs and modern living, then this week's featured house plan is one you'll want to look at closely. The Burbank, a 2737-square-foot home with a spacious three-car garage and three bedrooms, is an excellent choice for families who value versatility, spaciousness and organization.
View Post