The Burbank - An Elegant Contemporary Home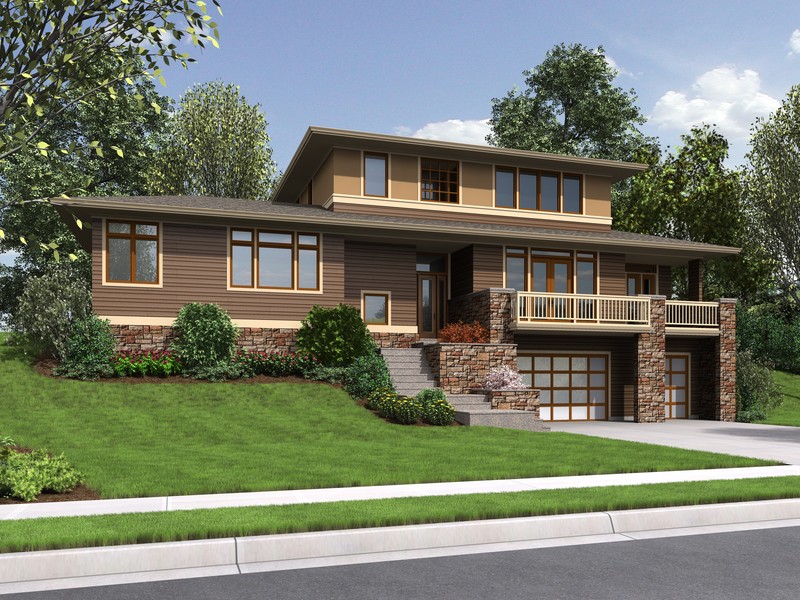 If you love contemporary designs and modern living, then this week's featured house plan is one you'll want to look at closely. The Burbank, a 2737-square-foot home with a spacious three-car garage and three bedrooms, is an excellent choice for families who value versatility, spaciousness and organization.
The Main Floor
The Burbank's main floor is wonderful for entertaining. With a huge great room and spacious dining room, you'll have no trouble making weekend guests feel relaxed and welcome. The den is perfect if you have a home-based business and need to hide all that paperwork in dedicated office space, or it could serve as hideaway from the hustle and bustle of family life. The master bedroom with attached full bath is also found on the main floor saving your tired legs from trawling stairs, as well as a deck that's great for summertime parties.
The Upper Floor
The upstairs of The Burbank is a loft-style level that includes two bedrooms and a shared full bath. It's a great design if you have kids, since the bedrooms are both the same size (13'4" x 12'2") – no fighting!
The Lower Level
The lower level is excellent for storing sports gear, seasonal items and that old high school letterman's jacket you just can't part with. The huge, three-car garage is excellent for families with multiple drivers. You don't have to argue over whose car gets left out in the elements.
Architectural Features
A contemporary home, the Burbank is designed with light and space in mind. Open, airy rooms give off a sense of relaxation. Large windows let in plenty of natural light to make your rooms feel grand and spacious. Square footage is maximized with careful planning.
A few special touches make this home exude modern style. An elevator makes it easy to travel from the ground level garage into the first story of the home. The walk-in pantry gives you more than enough room to store your food, so you can cook more meals at home in your gourmet kitchen.
If you love The Burbank and want to incorporate elements of its style into your cchosen house plans, let us know. We specialize in creating great house plans and can incorporate modifications that meet your individual needs both today and down the road as your family changes. Contact Mascord to learn about our collection of house plans.