The Vidabelo - Double Up Your Master Suites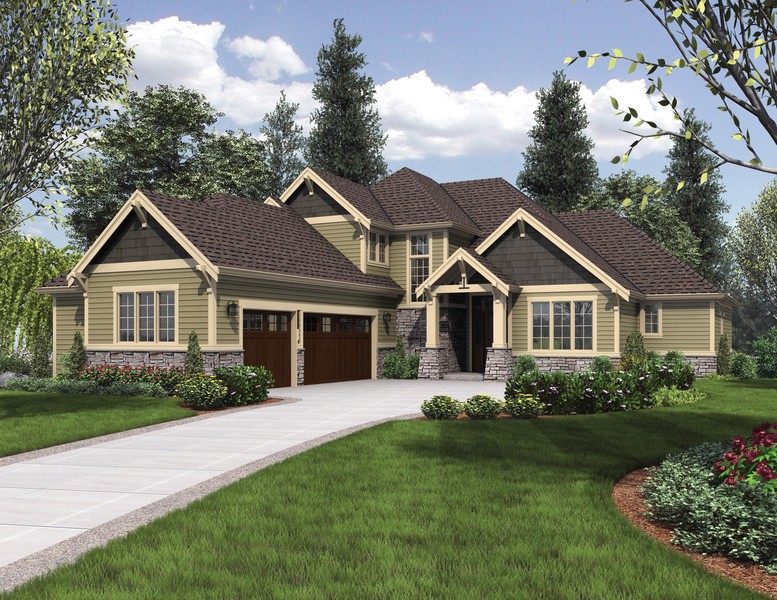 There's a new trend in home design: doubling up on the master suites. That's right --- some of today's hottest house plans feature not one, but two luxurious master suites. Our Vidabelo design is an example of a house plan that incorporates this innovative trend. Both main-floor master bedrooms have attached full baths and walk-in closets. Two additional, smaller bedrooms are found on the second floor.
Using Two Master Suites
Having two master suites is likely to come in handy in any number of scenarios. Perhaps you and your partner keep different sleep schedules, and his television watching keeps you up at night. Maybe you don't get home from work until late at night, and you don't want to disturb him when you get ready for bed. Having separate bedrooms lets each of you operate on your own schedule.
Here are a few other situations in which having an extra master bedroom suite is an asset:
You have frequent house guests and want to treat them to luxurious accommodations. Your elderly parents live with you and need their own private space. * An adult child and his or her spouse are moving back in while they save for their own place.
Other Features of the Vidabelo
Double master suites are not the only appealing aspect of the Vidabelo house plan. If you're working on finding a house plan that's perfect for entertaining, this is it. The great room opens up into a spacious, vaulted porch, where you can host barbecue parties in the summer. On the second floor, one of the bedrooms boasts a vaulted ceiling and could double as a casual room for games --- a great choice if you have kids who bring their friends over.
The Vidabelo also offers a remarkable amount of storage space. The attached three-car garage, the den, and multiple hidden closets and cubbies make it easy to stash your things out of sight.
This house plan is designed in the Craftsman style, featuring:
Mixed materials: stone, wood and brick
Low-pitched roofs with multiple gables
* Square columns at the entryway
If you're working on finding a house plan that is perfect for your family's needs, contact Mascord Design. We offer a wide array of house designs, including homes with two master suites and other special floor plan characteristics.
Gallery
Photographed Homes May Include Modifications Not Reflected in the Design