The Bucklebury Studio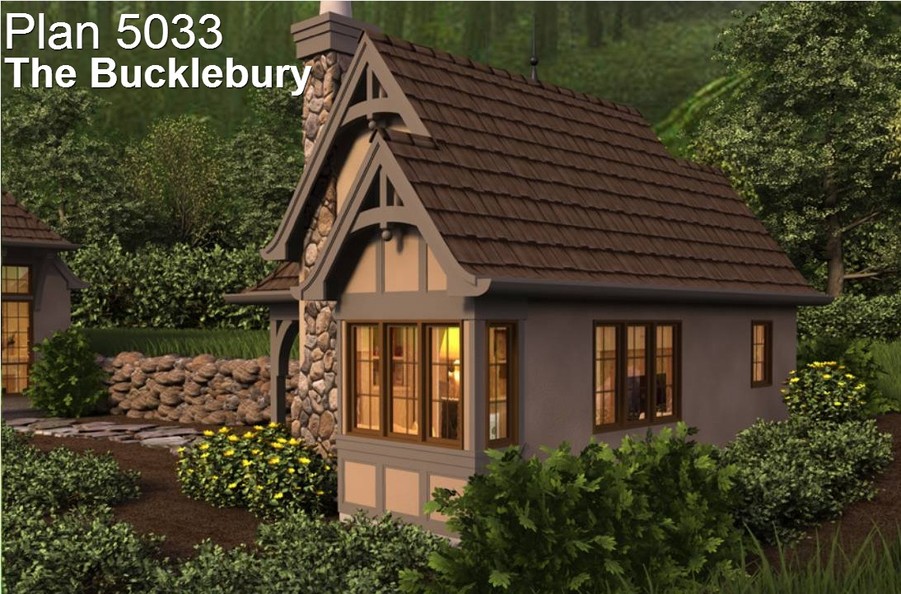 Picture a snow-covered cottage in the woods, with a roofline that peaks up just over the tree tops and a beautiful stone chimney that blends into the natural scenery. This is the Bucklebury Studio, an attractively designed guest cottage for one or two. Its compact design is ideal for simple living or a retreat away from home, and its attractive exterior reminds you of woodsy cottages from fairy tales.
Dimensions
At 300 square feet, the Bucklebury Studio is designed to maximize available space. It is 17'6" wide, 23' deep, and 12'10" tall at the midpoint. The peak height is a full 17'6". This large height to width ratio gives the home its cozy look.
Rooms and Layout
While the Bucklebury Studio is designed to maximize efficiency, it does not skimp on style. These custom home plans offer a full bathroom that includes a shower, toilet, and sink with a vanity. The bathroom is located off the left side of the main room. Found within the main room on the left hand side is a kitchenette with space for a stove, refrigerator and full sink. Plenty of shelving makes storage a breeze.
When you enter the home through the front door, you find yourself in the main room. With its vaulted ceiling, this 12' x 12'8" room serves both as a bedroom and entertainment facility, its height contributing to its spacious feeling. A large closet to the left of the main door is great for personal storage, and allows the home's inhabitants to keep their things out of sight and away from guests.
Exterior
With superb storybook styling and a slab foundation, this is not your average cottage. It's a retreat that will last the family for generations. The small porch area is great for sitting outdoors and relaxing in the summer. Surrounded by beautiful vining plants and trees, the cottage fits right into the background, looking quaint and elegant. A brown stick roof and 6" wooden frame create a natural color scheme that's perfect for a summer home or cap retreat. The Bucklebury is not your average cabin -- it's a well designed, attractive home away from home.
Designing custom home plans requires a lot of careful planning and decision-making. Use this studio as inspiration for your own unique home or retreat. Contact Mascord Associates for a little help along the way.