The Campbells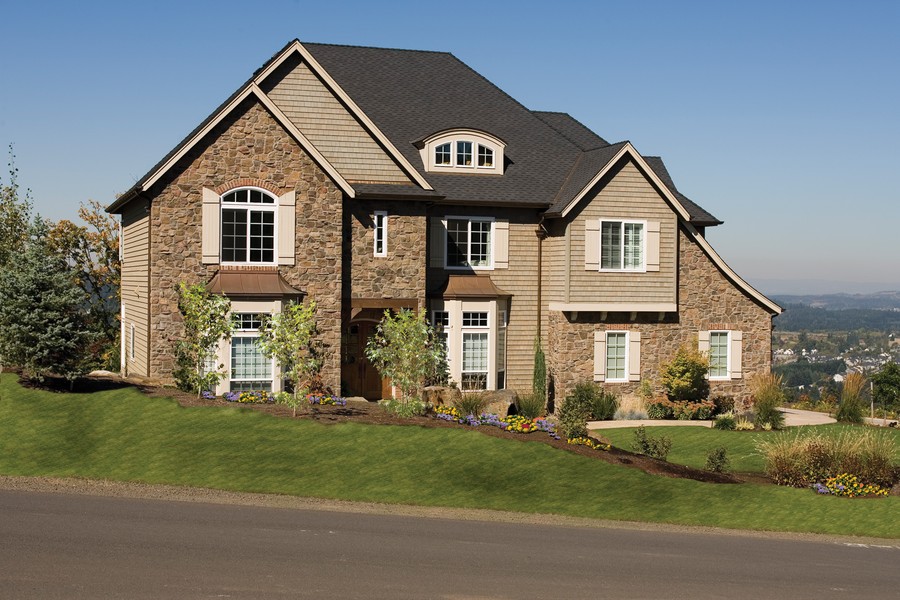 Places to work and play. Bedrooms for the whole family. Areas to welcome guests. Nooks to retreat to. Spaces for storage. All the pieces needed to create an elegant-yet-comfortable family home perfectly fit together in this design.
Of course, the home's exceptional floor plan would be meaningless without its attractive exterior. Fortunately, this home delivers an enduring testament. European touches, such as an eyebrow dormer, batten-style shutters, and corbels are anchored with a fitting compliment: variegated stone cladding that recalls the ageless look of Old World cottages. The whole of the interior is designed to complement this timeless architecture, ensuring the home will outlast the trends.
The main living spaces are designed tastefully, mindful of the needs of homeowners who entertain. Arches frame the views from the foyer into the dining room, the great room, the kitchen, and the breakfast nook, lending continuity and flow to the spaces. Traffic easily moves between the open great room and kitchen. From there, guests effortlessly can be directed into the dining room. The spaces function well for everyday needs too: the openness keeps the family in close proximity, built-ins flank the fireplace for media and TV storage, and the breakfast nook provides passage to the backyard for outdoor play.
The home's elegance, though, does not supersede a family's practical needs. The upper level provides relaxation and play space. Bedrooms 2, 3, and 4 are large, so that children and teens easily may carve out space for play and study. The media room is a great place for the family to watch television; younger children may use the attached nook area as a play space. Conveniently near all the bedrooms, a large laundry room can keep soiled clothing from piling up—or at least temporarily hidden from sight.
Soothing spaces too are found in the home. A den is quietly located off the main entrance. Designed with a bay window and built-ins, it can be used as a home office, or as a quiet reading or television viewing area. The upper-level master suite is another retreat for the owners. In the bedroom, a triple-window view to the backyard and a vaulted ceiling add sophistication, while a fireplace and built-ins solicit relaxation. Even more comforts are found in the bath, which provides a corner spa tub, an oversize shower, and a spacious walk-in closet.
Service and storage areas serve as connecting points which make all of the home's pieces function cohesively. For example, the coat closet and half bath next to the garage entrance are discreet, yet they are close enough to the entertaining spaces to service guests' needs. All of the bedrooms provide large closets. Additional storage is provided in an under-the-stairs niche. An alcove in the garage is ideal for tool and garden supply storage, and does not take away room needed for vehicle storage.
For more details on plan 2369, click HERE.
Gallery
Photographed Homes May Include Modifications Not Reflected in the Design