The Thompson Residence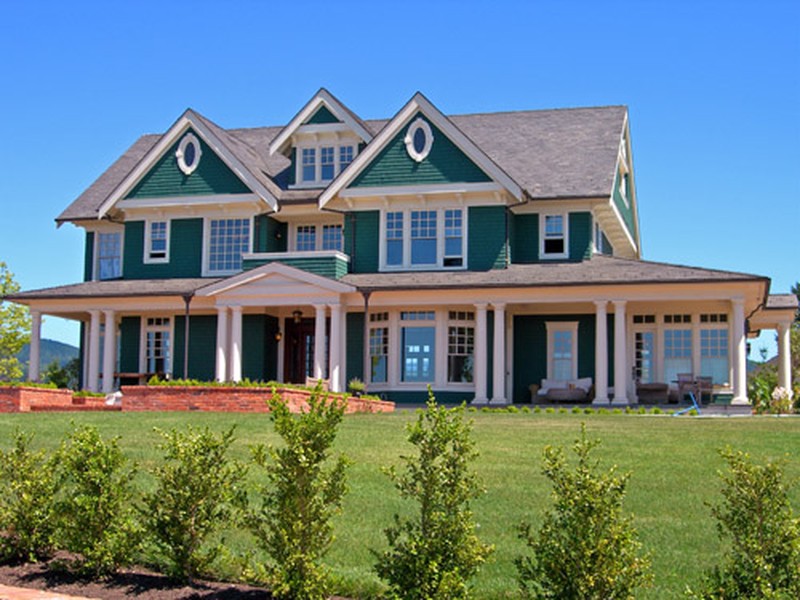 Taking the road less traveled may not be easy, but in the end it's much more worthwhile. Just ask homeowners Don and Sheri Thompson, who spent five painstaking years building their one-of-a-kind custom home in Washington. Today, as they enjoy the home's bright views, rich mahogany woodwork, and hand-selected materials — each detail with its own story to tell — they take comfort in knowing they built the home they wanted, without compromising their dream.
As the millennium year unfolded and the Thompsons broke ground on their home, they found themselves much like the protagonist in poet Robert Frost's "The Road Less Traveled." There were two paths to follow when building their home. The standard route took them through a quick year to a year and a half to build, providing just a month or two to pick out all the finishes and details using the builder's suppliers and showrooms. This approach works for most people, but it proved inadequate for the Thompsons. Don and Sheri had a specific vision in mind for their home: an early 1906 Arts-and-Crafts style with unique custom touches and a true old-house feel—not the type of look that could be picked out at a typical builder's showroom.
Thus, the Thompsons found themselves looking at and deciding upon the second path — one filled with dips, valleys, and rocky terrain manifesting itself in countless hours of personal legwork and research, as well as time delays that at one point forced their family of six to live in a tiny apartment above their carriage-style garage while the home was being completed. "We didn't want it to take that long," Sheri says, "but a lot of the people just didn't have the pieces to help us get it the way we wanted. So, we ended up doing a lot of research on our own."
The Thompsons took a careful and methodical approach toward every detail of their home from the floor plan to the final piece of trim. As the home was being designed, the couple spent countless hours flipping through magazines and books for ideas on how the inside should look. When the home was under construction, Sheri spent months picking out the tile for the master bathroom and countless hours searching for reproduction and antique light fixtures.
"They really thought about everything for this house," says home designer Eric Schnell of Alan Mascord Design Associates, who designed the home. "[Don] was very determined not to make compromises. He wanted to be sure that deep down he was getting what he wanted."
Initially, the inspiration for their new home began with their previous home, a 1906 Arts and Crafts-style home in an historic Washington neighborhood. The big, roughly 3,400-square-foot home with its dark woodwork, wide moldings, and spacious accommodations gave them plenty of room for their then family of five. An urban location, however, restricted their children's outdoor play to their cozy city lot. "We loved the home, but wanted more property," Sheri says.
Their search for more land brought them to a 530-acre subdivision in Southern Washington. Their one-acre parcel of land would give their children plenty of room to play sports in the yard and to catch frogs and snakes in nearby ponds and streams.
Recreating an early 20th century look was the Thompsons' most important criterion, according to Schnell. "They wanted to create something that looked like it had been there a long time. That was very, very important to them. Their [older] home had a lot of unique detailing. They really liked that sense of there not being another home like this one."
In an effort to grasp the look they wanted, Schnell and the Thompsons toured the couple's home and visited many of the older neighborhoods in Portland. The couple also showed Schnell the magazines and books they had been studying.
Many elements from the turn of the century homes inspired the facade of the new home, including symmetrical gables with elliptical windows, a central dormer, a full-length front porch, and round columns.
Inside, the upper level balcony, visible from the entry, frames a quaint second-story study. Adding to its striking appeal is a detailed banister anchored by solid newels that rises to the second story along a U-shape staircase. Wide moldings along the floor and around the doors and windows, as well as high ceilings and dark-stained woodwork were elements carried from their previous home.
While the look of the home had to match their aesthetic sensibilities, the floor plan had to work for their daily life, which centers on their family — a family which grew in the 5 years it took to build their home. While the plans were being drawn for the home, their family included sons Jess, Conner, and Luke. But in the first year of building the home, daughter Taylor was born. The busy family of six needed a mix of kids-only, adults-only, and family areas melded into the floor plan.
The home's symmetrical facade worked in their favor, dictating a boxy floor plan that easily could be parceled out into sections. At the center of the home Schnell designed an open kitchen, great-room, and breakfast nook, where the family primarily hangs out, reads, or entertains friends and family, Sheri says.
A club room and a wing of specialty rooms flank the open great-room layout. The club room was designed for family fun. "Having [the club room] on the main level made a lot of sense," Schnell says. "They don't have to run upstairs to watch over their kids. They can watch a football game and it's all right there."
Columns and a fireplace divide the long, rectangular room into two sections. Comfy furniture sidles up to the built-in media center at one end of the room. Here, the family watches television together. Making use of the space underneath the staircase, the Thompsons built a walk-in closet to house their board games and other toys. "I think old houses would have had spaces like that underneath the stairs," Sheri says. A pool table sits at the other end of the room where a bay window provides a rear view.
Adjoining the kitchen are various specialty spaces, including a sunroom, crafts room, mudroom, and home office. Each space meets a specific need, but Sheri jokes, "You know, you make your initial list of what you want, and then you see what you have room for. In our case, nothing got cut out."
Besides lending an authentic old-house feel, the sunroom provides a bright place for Don's collection of house plants and it provides additional entertaining space. The crafts room is a place for Jess, Conner, Luke, and Taylor to work on art projects and for Sheri to scrapbook. Windows between the sunroom and crafts room bring in much-needed light. When guests drop in, shutters close to hide untidy messes. A mudroom houses lockers where the kids can stash backpacks, shoes and coats when they come in from the garage. Sheri manages the website for their retail and wholesale furniture business in the home office.
The home's four bedrooms are on the upper level. Her sons share a room for now, and in the future the couple hopes to add a bedroom in an attic on the third level.
The master suite layout was modeled after the master suite in their previous home, which featured a bed alcove and a sitting area with a fireplace. The sitting area is used as more of a family space than an adult retreat, according to Schnell. "They wanted that large sitting area because their kids all come in there in the morning. It's like a sitting room/playroom for their kids in the mornings."
Creating a workable floor plan for their family was the easy part, Sheri says. It was hammering out the finish details that tested their mettle. "We found through the whole process — and this is part of what took us so long — if we couldn't find what we wanted, we just didn't do the space until we figured out what made sense," Sheri says. "Because we plan on living here for the rest of our lives, it was important to us to get the details right."
When their previous home sold and their new home was not quite finished, the Thompsons moved their family of six to the guest quarters above their garage. With just three small rooms, one bath, and a tiny kitchenette, the family of six was cramped. Just over four months later the relieved Thompsons were finally able to move into their new home — but not without an initial adjustment period. "We went from being able to hear anything anyone said, to not being able to find each other," Sheri says wryly.
The Thompsons continue to travel down their chosen path with several details yet to be finalized, including several light fixtures and the kitchen backsplash. The Thompsons, though, feel no pressure to "finish up." Over the course of five years, they've seen how patience pays off. And in the end, they realize their chosen path will have made all the difference.
To view details of their home - Plan 2418 The Parnell, click here.
Gallery
Photographed Homes May Include Modifications Not Reflected in the Design