Are Plumbing Schematics required to be on House Plans?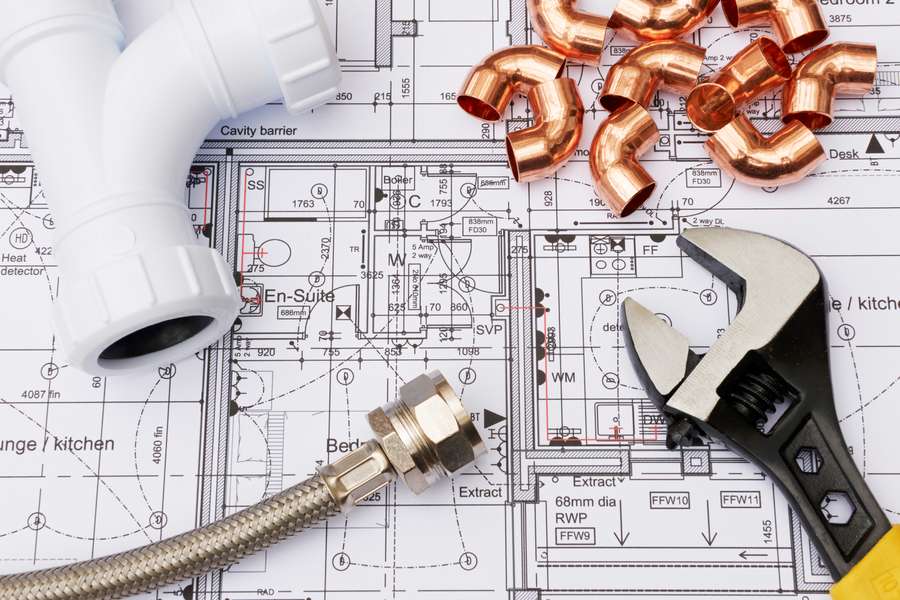 Architectural drawings are detailed plans to guide the construction of a new home or an extension. They usually include various intricate details, such as the room size and shape, the windows and doors placement, the roofing type, and other design elements. Plumbing plans in blueprints for houses are usually drawn up by a separate contractor, often a plumber.
About Architectural Drawings
Architectural drawings are used to communicate the specific features and design elements of a home design. They provide a visual representation of how the building will look and function, and detail structural elements required to construct the home and meet national building code requirements. Contractors use these drawings to guide them through construction of the design, and city officials review them during permitting and inspection to ensure the building meets building codes and is constructed according to the approved design.
The architectural drawings are important because they:
Help home owners and contractors understand how a building is intended to both look and function when finished.
Give necessary information and instructions so the construction crew can build the structure.
Provide a detailed record of the structure of a building, which is necessary for future maintenance.
Throughout the project, you'll refer to different architectural drawings. Some of these are provided by the home designer, some are actually provided by third parties.
What Plumbing Information Should Plans Provide?
Mascord drawings will include floor plans, elevations, section plans, roof and foundation plans for a new building. These technical drawings provide the measurements of the structure, placement of electrical and plumbing fixtures and notation of window sizes and types - as well as gravity based structural elements such as beams and headers. This is all information that is related to national residential building code compliance and to aid in permit aquisition. It is optional to include separate plumbing plans in the set of drawings - the majority of the time, we include electrical and plumbing locations on the dimensioned floor plan pages.
In simple terms, a home designer provides the location of plumbing fixtures, such as toilets, showers, and basins. A plumber uses that information to ensure that plumbing and drainage systems follow local codes. The plumber then works with a plumbing plan certifier to ensure the plans are approved and registered with the local government before designing a layout of plumbing lines for the home. A drawing of the plumbing lines is not usually required.
Do the Home Designer and Plumber Work Together?
Having a good knowledge of plumbing can help a professional home designer or architect create plans that are efficient, cost-effective, and free of problems. Understanding what types of plumbing systems work best in certain situations and laying out the fixtures and planning for plumbing lines and other components helps us to create a design well-suited for its intended use. While we definitely refer to specific trades for current information and knowledge, we use that in a collective fashion so we aren't limited to the knowledge or preferences of any single contractor.
In Closing
Since plumbers and home designers have designated roles and tasks in construction, it is always best to consult with them. Clarify who does what to ensure you understand who provides what for the blueprint to success for your future home.
Alan Mascord Design Associates Inc. is a renowned Portland, Oregon-based company that provides home designs, blueprints for houses, construction documents, and associated assistance to clients nationwide. View our pre-made house plans through our website or create one by contacting us at (800) 411-0231.