Kitchen Cabinet Trends 2016
When it comes to kitchen cabinets, we've seen a few great design trends that are sure to become even more popular over the coming year. If you're building a new home – or doing an extensive remodel – here are some of the things that you can look forward to.
Functionality
Once upon a time, most people chose cabinetry solely on its looks. However, over the years, cabinet manufacturers have been adding nice little extras that make some cabinets easier to use. In the coming year, you'll see an even greater emphasis on functionality. Most kitchen cabinets (apart from the budget models) come with hydraulic closures that pull cabinet doors shut if you've left them ajar. Many cabinets are also outfitted with "soft-close" mechanisms that cushion the doors and prevent noisy slams as you're rifling through them.
Drawers are also becoming more popular. In the past, most kitchens had a few smaller drawers for things like silverware, cooking utensils or other smaller objects, while cabinets featured pullout shelving for pots and pans or food storage. These days, you'll find lots of larger drawers for pots and pans and more organizational options for canned goods, spices and more.
Simplicity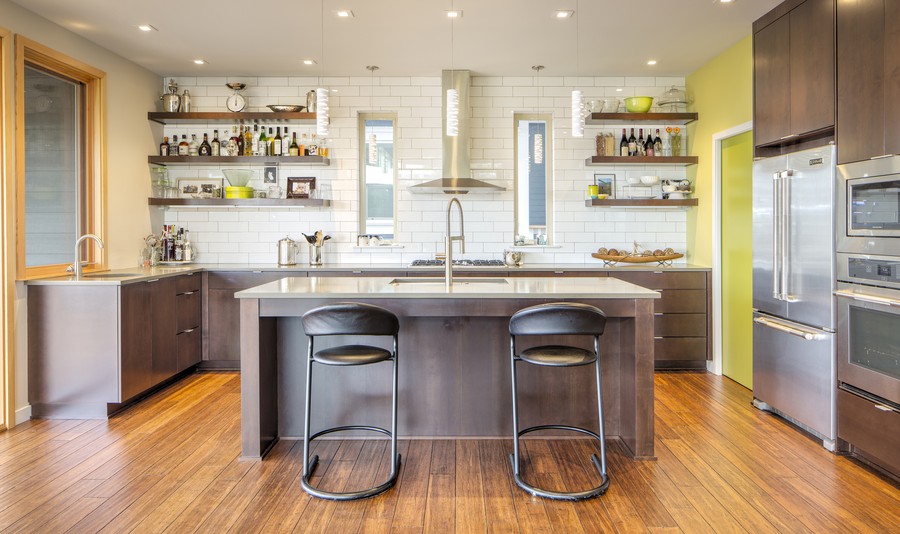 When it comes to cabinet styles, Shaker doors, louvered doors, inset panels and other more ornate designs are falling out of fashion. Nowadays, people prefer flat cabinet designs because they have a sleek look and they're easier to clean.
Hardware
Flat, featureless cabinet faces can lead to a boring kitchen, which is why more people are choosing hardware that makes a statement. One popular hardware style features long, smoothly curving stainless steel pulls across the entire length or width of a drawer or door. Color contrasts are big, too – chunky black knobs and pulls on white cabinetry, for example.
Color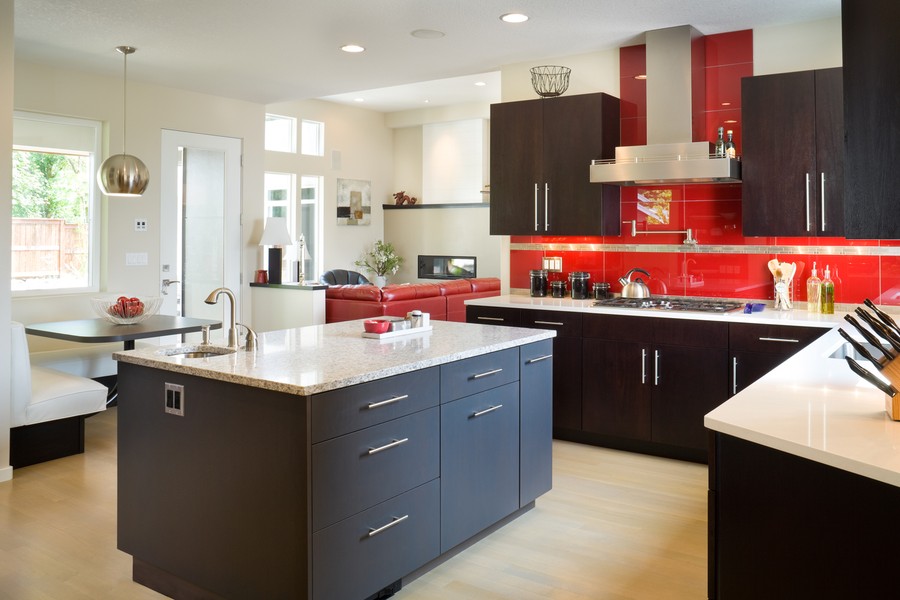 Interior designers are steering away from natural wood finishes, choosing glossy enameled cabinetry instead. You won't find many muted shades or off-whites, either. Bright, clean white kitchens are hugely popular, and they're usually paired with dark accent colors like black or chocolate. You'll also see kitchens in rich brown tones or medium to dark grays.
Not all natural wood finishes are out, however. You won't see many kitchens done in traditional shades like oak, cherry or mahogany, but you will see some kitchens with a "weathered wood" finish. The weathered look gives you natural wood grain and a soft color palette made primarily of grays and a few hints of yellow wherever "new" wood shines through. Unlike the old, battered look of "distressed" cabinets and furnishings, weathered finishes work well in both vintage and modern-themed kitchens.
For the most part, kitchen cabinetry is trending away from the antique look and into more modern themes. People that want a vintage look are choosing retro themes like Mid-Century Modern over farmhouse-style country kitchens. In 2016, kitchen cabinets will serve as a functional backdrop to bold hardware and rich contrast colors.