5 Kitchen Design Elements of Small Cottage House Plans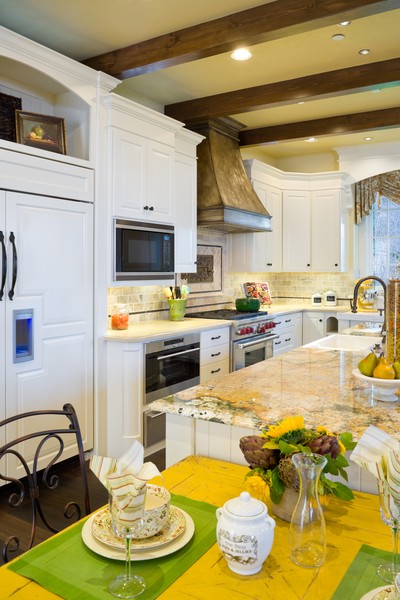 The kitchen is the heart of any home. Just think of how many parties you've been to where everyone ended up congregating in the kitchen—despite plenty of room elsewhere. Even in small cottage house plans, the kitchen has this same magnetizing effect. So, it's important to have a charming kitchen where you and your guests can really unwind. Let's take a look at some of the delightful design elements often found in the kitchens of small house plans.

Small Home Plan Spotlight: Cottage Kitchen Features
Cottage kitchens are unpretentious and cozy. They exemplify the term shabby chic. Functional and comfortable, charming cottage kitchens also boast their own design flair, in the form of floral patterns, period hardware, and beadboard, to name a few possibilities. Here are a few of the features you might find in a cottage kitchen.

1. Hardwood Floors. The traditional cottage kitchen featured wood planks underfoot. Consider reclaimed wood flooring for a period feel, or install a striped pattern to make the whole kitchen feel larger.

2. Farmhouse Sinks. Sometimes referred to as apron-front sinks, farmhouse sinks are deep enough to contain big pots and pans. Typically white ceramic, streamlined farmhouse sinks are making a comeback among modern designers.

3. Butcher-Block Counters. Marble and quartz are too slick for most cottage kitchens. Butcher-block combines functionality with warmth, a hallmark of the cottage style.

4. Victorian-Style Faucets. Yes, you can have modern convenience with yesterday's style. Fixtures go a long way in creating a period feel. As Victorian styling was the rule when many cottages were built, Victorian faucets fit right into cottage kitchens.

5. Concealed Appliances and Storage. The shiny stainless steel of a dishwasher can ruin the cottage feel. That's why designers often recommend hiding appliances behind sliding wood panels. Additionally, stovetop hoods can be enameled in white or pastels to maintain an Old World look. Appliance garages provide space for toasters and other must-have gadgets, while closing off clutter.

If you're the proud owner of a period cottage, you know it takes work to make it work with the modern lifestyle. Here are some simple ways to make any cottage kitchen feel spacious.

Tricks for Small House Plans: How to Make a Small Kitchen Seem Larger
* Choose light colors. Pastels and white paints make any space feel bigger. For visual pizzazz, add a contrasting color such as turquoise or cheery yellow.

* Open shelving makes it a breeze for chefs to get what they need, while also making the whole room seem larger. To extend this effect, keep shelves neat and organized, with matching dishware in a single color. Or, if you like full cabinetry, replace cabinet doors with glass.

* Opt for opaque window dressings. This will preserve natural light as well as your privacy. The more sunlight in a room, the bigger it feels.

* Recessed shelving, flush with the wall, adds much-needed storage while preserving floor space.

* Install reflective surfaces, such as copper and ceramic tile. By bouncing back natural light, shiny surfaces help boost perceived space.

Modern designers tend to include these space-maximizing features in new cottages. Vaulted ceilings, open floor plans, and pendant lighting are incorporated in many of our cottage house plans. Browse our library of cottage house plans to see how our innovative designers make cottage kitchens live large.

Note: The kitchen shown above is in The Rivendell Manor House Plan 2470.