AMDA Celebrates John Yeon & Northwest Modernist Architecture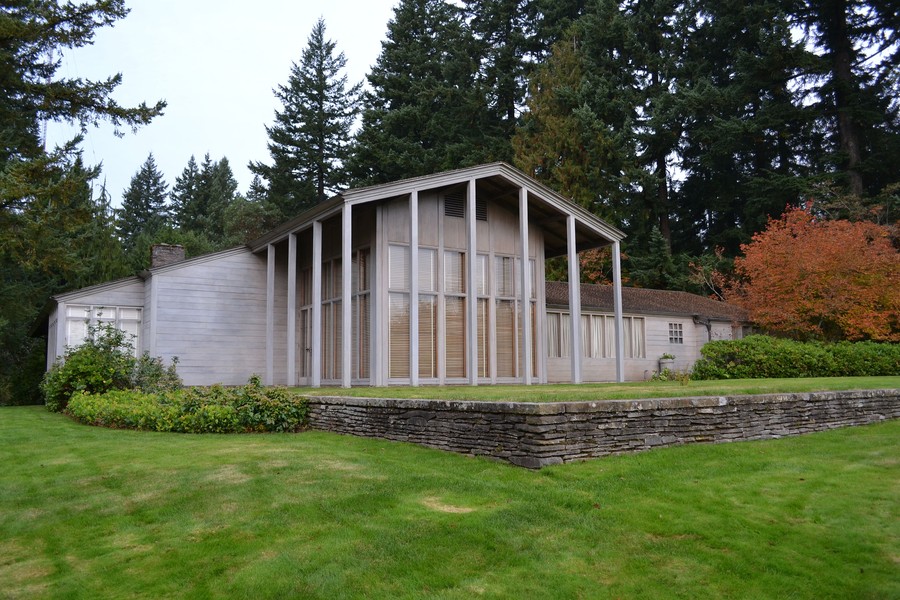 Portland, Oregon architect John Yeon (1910-1994) had no formal architectural education, yet his style has influenced and inspired modern home plans across the country, and particularly in the Pacific Northwest. Yeon is credited with being a founder of the Northwest Regional Architectural style, a modernist movement in the Pacific Northwest during the mid-1930s to 1960s.
Yeon had humble beginnings. In his teens, he worked as an office boy at Herman Brookman's architecture firm. In 1928, Yeon's father died suddenly, and the architect halted his formal study of architecture, which he was pursuing at Stanford University. He would later work at A.E. Doyle for a short three-month stint. During this time Yeon was working on the production drawing for the Aubrey R. Watzek House, his best-known residential project. Aside from these introductory positions, Yeon's career was entirely self-driven. He was a self-educated man.
Yeon's Watzek House would be realized in 1936; its features typify the contemporary home plan design Yeon championed. Located in Portland's West Hills, the Watzek House's single-story design included recognizable elements of contemporary ranch homes, such as clean, straight lines, lack of ornamentation, and a focus on the use of natural materials. But Yeon's creative spirit also found new ways to push modern house plans forward. For instance, the home was decades ahead of contemporary thinking in terms of green construction. It used wood in all kinds of applications, from structural support to finishing touches. Modular wood panels could be subtly manipulated to reveal storage spaces. Elegant wood posts support the house's wide eaves, which were broad enough to protect the home's yawning expanses of glass.
The Watzek House's landscape architecture also shows Yeon's visionary approach. Rather than planting formal or exotic species, Yeon selected native plants. He did include a front lawn, but aside from that his focus on native species was prescient. An internal court created a winter-friendly microclimate where early spring blossoms enjoyed protection from the site's harsh exposure to wind. The Watzek House brought Yeon acclaim here in America, and in Europe as well. A 1946 issue of House Beautiful called the Watzek House "One of the great houses of America."
A later innovation in Yeon's career was modular construction accomplished with newly available waterproof exterior plywood. Yeon built so-called "speculative homes" across Portland with this new exterior approach. The use of plywood allowed for very thin, clean rooflines. When building these unique structures, Yeon avoided installing eyesore window screens by inventing a system for ventilation systems above windowpanes.
The only non-residential Yeon building still in existence is his iconic Visitor's Center Pavilion, just off of the Salmon Street fountain in downtown Portland. This unique rectangular building sits low to the ground. Plywood panels alternate with glass to highlight surrounding views. The whole building is centered on a central garden courtyard.
Beyond architectural designs, Yeon also designed museum exhibits.
John Yeon's total output was limited, but his influence over later generations of Portland designers has been great. Some of Yeon's lasting architectural contributions include his use of double glazed windows, hidden cabinets, and his window ventilation system. Yeon's guiding concept was to work with nature and the existing terrain, not against it. Yeon never had formal training, and never earned his architect license. However, he was made an honorary member of the American Institute of Architects, and in 1980 received Lewis and Clark College's Aubrey Watzek award.
Yeon was more than an architect. He was also an early conservationist. He fought to save historical buildings and to preserve the natural beauty of the Columbia River Gorge. When he was 17, he borrowed money against a life insurance policy to purchase Chapman Point, which he kept all his life. He never built on this property and it remains one of the most photographed spots on the Oregon Coast.
Yeon's life of independent creativity continues to inspire architects and designers in the Pacific Northwest. As designers create modern house plans for our soggy region, they borrow from Yeon's work. And Yeon's output continues to win him accolades, including multiple placements on the National Register of Historic Places. As Portland architecture aficionados, we salute this grandfather of NW modernist architecture.
Aubrey R Watzek House 2 (Portland, Oregon) - Image Courtesy of CC License 3.0