Tesla Solar Roof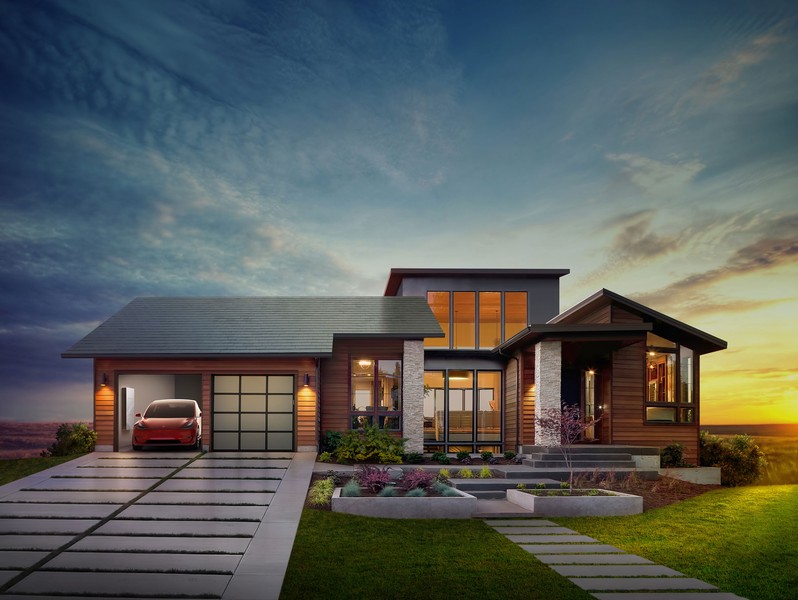 "The sun provides more than enough energy in just one hour to supply our planet's energy needs for an entire year. Your home can capture this free, abundant energy source through rooftop solar tiles, turning sunlight into electricity for immediate use or storage in a Powerwall battery." Said Tesla, as part of their Solar Roof and Powerwall 2 announcement on Friday October 28th. Solar roof tiles are manufactured with durable, long lasting tempered-glass in four styles that complement and power your home. The solar tiles integrated into the roof are invisible when viewed from the street, yet are fully exposed to the sun from above.
On top of showcasing their state-of-the-art solar roof tiles that will surely revolutionize the solar industry, and their amazingly capable Powerwall 2 storage battery that will capture the power to use later, what really captured our attention here at Alan Mascord Design Associates Inc was that they featured one of our most beloved designs - Plan 1410 - The Norcutt
We agree that matching state-of-the-art tech with innovative and future-proof design features makes the most sense for homeowners - and there's no better match for your Mascord home than Tesla solar roof tiles. Check out https://www.tesla.com/solar for more details.
Gallery