The Dunland: Contemporary House Designs with Coastal Style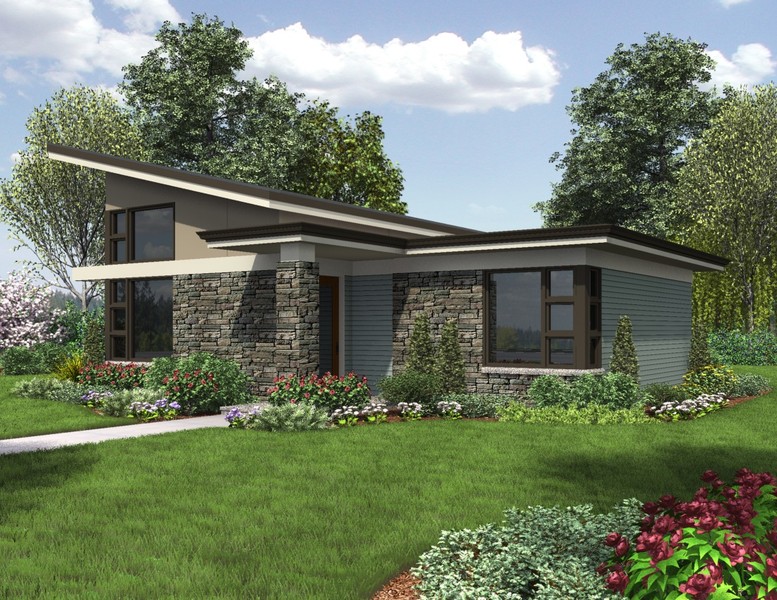 Contemporary house designs like the Dunland make an elegant statement in any neighborhood. This is one of the most space-efficient contemporary homes in our collection. The Dunland's cozy size – one bedroom, one bath and a vaulted living/kitchen area – is perfect for vacationers, renters and micro-living enthusiasts. Let's take an imaginative tour of this neat, elegant home.

As you approach the Dunland, its asymmetrical roofline is the first hint of this home's modern leanings. From the front door, the roof is flat to the right. To the left, the roof slopes upward to create a wall of windows. You face this wall of windows as you enter into the vaulted living space. A plant ledge wraps around this room, which is always filled with natural light thanks to the angled roofline above. The living room is naturally cooled by an architectural adornment: a pergola suspended outside the great room, held in place by supports above.

The kitchen is open to the great room; this type of floor plan allows the Dunland's main living area to feel even more spacious. The same is true for the vaulted ceiling in the kitchen. Here, the U-shaped design creates plenty of counter space. A full walk-in pantry adds storage.

Walking back through the foyer, we find ourselves in a small hallway leading to the bedroom (on the front side of the home) and the bath (in the back).  The bedroom is cheerful and sunny, thanks to a set of corner windows. A full wall of closets will keep this room clutter-free. The bathroom includes a jet spa as well as a generously sized shower.

All in all, the Dunland contemporary home plans are simple, inviting and well-designed. If you're looking for a home that preserves space while maximizing the modern style, look no further.