Mascord Living Spaces for iPad Launched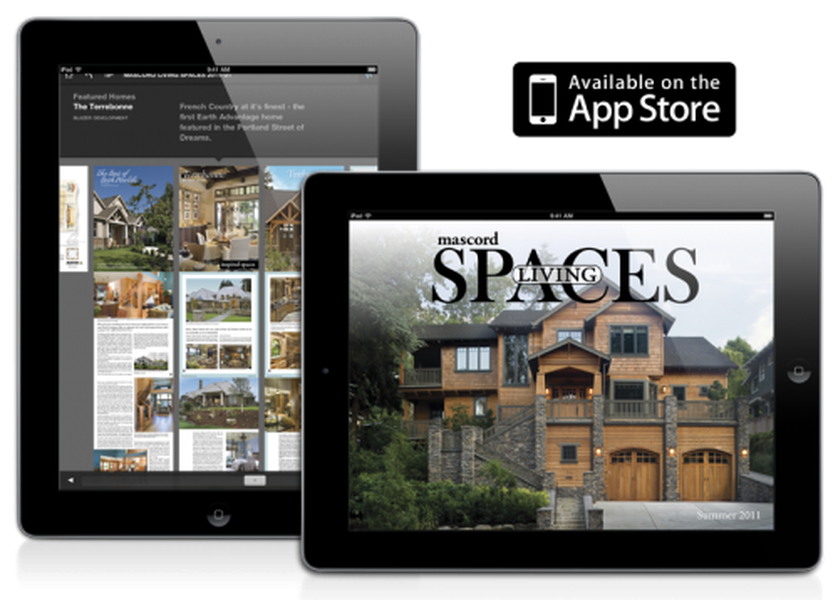 Mascord Living Spaces is the first app to be launched from the offices of Alan Mascord Design Associates (AMDA) - Portland's premier home design company.
AMDA's new magazine app includes feature articles, slideshows, video, and 360 degree revolving renderings for new home designs. The app —available for free download— also includes an easy to use menu system featuring interactive table of contents, page thumbnails, and a story view.
In the Summer 2011 edition —included with the app—The cover story and photo feature showcases 'The Senath', a beautifully crafted Arts and Crafts style home constructed by Castlerock. Other magazine features include 'The Rivoli Residence': The Story of Ray Rivoli's LEED® Platinum construction of 'The Abbott'; 'Kitchens Inspired By The Old World' : Creative kitchens combining modern technology with rustic flair, and more.
Gary Higginbotham, AMDA's marketing manager, graphic designer, and green building specialist created the new version in-house, with the support of the company's talented home design team. AMDA intends to produce fully interactive iPad versions of each forthcoming issue of the popular title.
Alan Mascord, the company's President, said: "We've always been on the forefront of innovation, both with our home designs and our use of technology. We think the iPad is a wonderful way to present our designs and we are delighted to launch this magazine at this early and exciting stage in the new technology's development. This app has functionality at its heart, with the opportunity to create a truly immersive experience for the reader and revolutionize the house plan selection process. It offers incredible value for money and should be the first app iPad-owning builders and prospective homeowners download."
AMDA's other titles include the popular had backed book 'Mascord Efficient Living' (ISBN 0978811313 ) available on amazon.com and barnesandnoble.com.
Mascord Living Spaces can be downloaded for iPad on the App Store.
Device Requirements: iPad or iPad 2, iOS 3.2 r later.
Pricing and Availability: 'Mascord Living Spaces' is free, and available worldwide exclusively through the App Store in the Lifestyle category.