Choosing the right elements for your mud room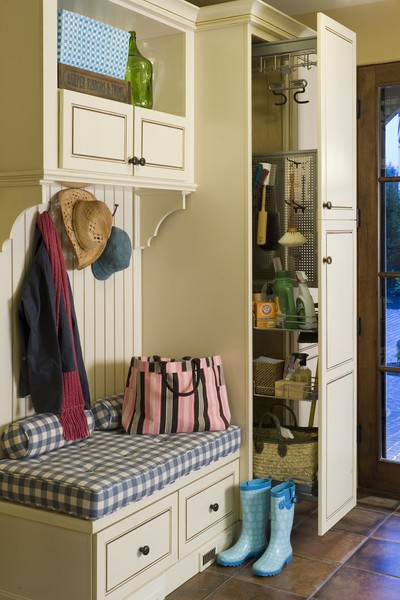 In older homes, the entry from the garage often opened into a hallway or directly into the kitchen or living area. Dirt was easy to track inside, and keeping entrances clear of dirt and wet raincoats was difficult. Those few homes that did feature mud rooms only had small spaces with a couple of hooks for coats and not much else.
Modern mud rooms, however, are so much more practical. In fact, a well-designed mud room is often one of the most useful rooms in a home. If you're choosing a stock design or creating a custom home design with us, here is an overview of the many uses for this room.
Mud Room Basics
First and foremost, the mud room is a place to confine the mess that you, your kids and your pets drag in from outdoors (the mud). A mud room's purpose is to give you a place to take muddy shoes and overcoats (and overalls) off, clean and dry them and put them away. You'll need a place to hang wet coats to air dry, and a place to grab a towel and dry off that lovable scoundrel (of either the two or four legged variety). Coat hooks and a shoe storage bench help organize frequently used outdoor gear. You could use some shelves above the coat hooks to provide storage for hats or the dog towel.
Include a separate closet, and you'll also have a place to store jackets, umbrellas and other bulky outdoor gear for easy use at the right time. Winter or garage gear is more conveniently stored in a mud room closet than a hall closet or under-bed storage and it helps you keep everyone's outdoor gear neat and organized year round. Plus, because mud rooms are generally close to the kitchen, the extra closet storage space could serve as your auxiliary linen closet for tablecloths and napkins.
If you install a central vacuum, you'll love having an extendable hose or a kick-plate in the mudroom. Make it super easy for people to clean up after themselves and your mudroom is much more likely to be kept clean.
Counter space and a utility sink are great for cleaning and hand washing. If you're a garage enthusiast you have a space for hand scrubbing and even (don't tell the wife) cleaning engine parts - If you're an outdoorsy type, you can clean off hiking boots without using the kitchen sink and splashing mud all over, which is more likely to keep your significant other happy! Easy access to the garage also makes this a handy source of water for DIY projects and garage clean-ups.
If you have left the space and have the budget, you can add a laundry area, too. You can install shelves or cabinets to hold laundry supplies as well as a counter for folding clothing, and you'll have a centralized, easy-to-clean space for those weekly loads of laundry.
Form and Function are best when they work together
Useful rooms don't need to be ugly rooms. Plan your mud room well, and it can do all of the things listed above while looking fresh and clean. Remember that this is a frequently used entry point to your home, so you don't want it to cause you stress the instant you walk in - you want your home to be relaxing after a stressful day in the modern world. Who wants to be greeted by piles of dirty laundry or shoes scattered across the floor?
To keep your mud room looking great all the time, include organizational tools for absolutely everything. Use creative solutions like built-in hampers beneath the counter to sort and store dirty laundry, benches with cabinets that give you a place to remove and put away boots and shoes, and separate areas for wet clothes and coat storage. Essentially, just make it easier to put something where it is supposed to go than dump it, and make it super easy to clean up after yourself.
If you're looking for a stock home design or creating a custom home design with us, we recommend that you don't skimp on this essential room if possible. You'll find that a functional mud room not only keeps the rest of your home cleaner, but also makes everyday life easier and makes you feel more comfortable when you arrive home.
Coat hooks and shelves are the basics, but adding storage, laundry, craft spaces, and a sink can make your mudroom the most practical space in your home.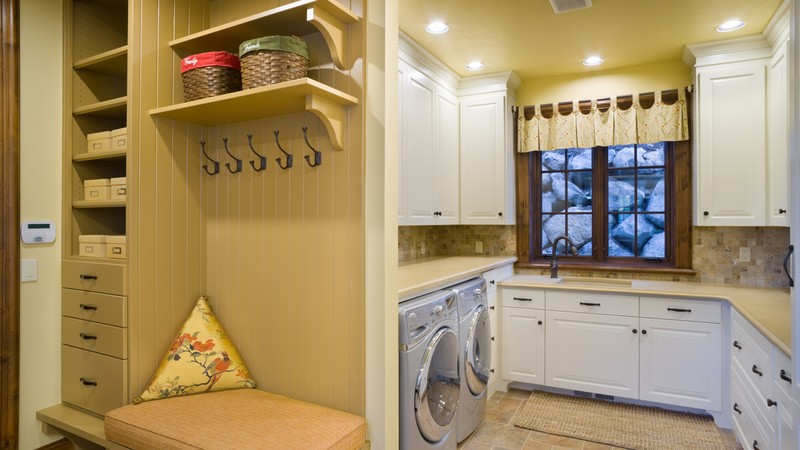 Plan 2470