Why Outdoor Living Areas are Replacing the Traditional Front Porch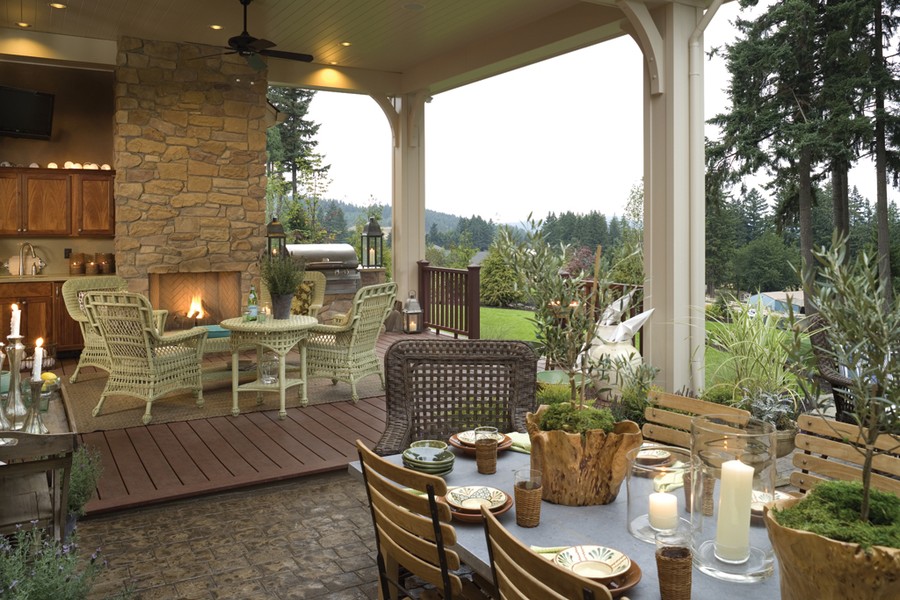 We recently ran across an article by James Nelson entitled "Whatever Happened to the front Porch!" In this article, Nelson brings up many great points about front porches, their uses and the traditions surrounding them. Historically, they're a place for family, for lazy afternoons and for good conversations. Nelson goes on to say that as modern builders and designers are omitting the front porch, we're losing those special traditions.
Is the front porch disappearing as we know it? Yes, it is. But that isn't necessarily a bad thing. Our world is changing, and home plans are changing with it. The simple fact is this: Outdoor living areas are replacing the front porch because they fulfill every need that the traditional porch fills, along with several more that a front porch just can't match.
An outdoor living space is just as nice as a front porch when it comes to spending time with your family. However, since this space is to the rear of a home, it affords you more privacy and security than a front porch. Vandals and thieves are less likely to swipe your favorite chair from the backyard living area, and nosy neighbors won't intrude as you work or play. On rainy afternoons, you'll never be splattered by water from cars blazing down the street in front of your home.
Outdoor living areas give you things that a front porch never will. Build an outdoor kitchen, a space to work on DIY projects, a patio garden or anything else you can imagine. Whether you have a modern outdoor kitchen or a simple barbeque and picnic table, an outdoor living area is filled with possibilities. The privacy means that you'll never need to worry about what neighbors or passerby think. Throw a party, work on your laptop while wearing scruffy pajamas – it doesn't matter. That versatility and privacy means you have the freedom to do as you please.
Outdoor living spaces come with a view, too. Not every home overlooks a scenic vista, but as long as you have space in the backyard, you can create your own view with a little clever landscaping. From the front porch, however, your view is limited to whatever happens to be across the street.
Of course, if you have no other choice, a front porch is better than nothing at all. However, if you have the choice, modern house plans, with their patios, decks, back porches and outdoor living areas, give you as much and more than a home with only a traditional front porch.