Outdoor Living Spaces: Beautiful Design Ideas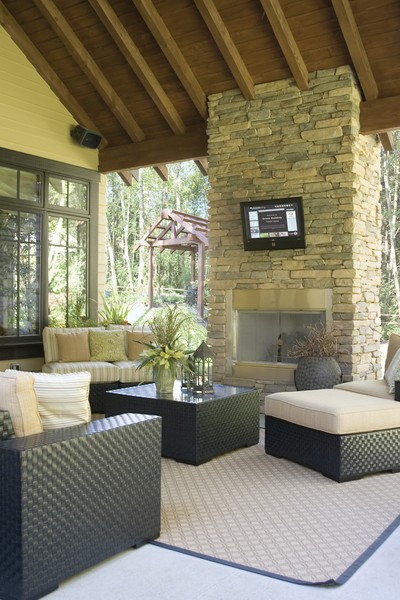 As the blustery days of winter tick by, we must remind each other that spring is just around the corner. Once those tepid days of early spring hit, you'll be itching for a visually pleasing outdoor area where your family can lounge in comfort, and we have some great tips to make your space outstanding.
Design Tips for Outdoor Living Spaces
As a leading designer of build-ready home plans, we've developed quite an eye for what makes the perfect outdoor living area. Make your patio pop with the following tips:
Don't shun color. Using bright colors sparingly indoors is wise; a brash color can easily overwhelm a limited indoor space. However, outdoor settings can handle more color without feeling cramped. Choose turquoise, mango, lime or some other bright, cheerful color that speaks to you; a few accents in this tone will brighten your outdoor space.
Light like a pro. If you want to accentuate an architectural element, such as a façade on your home's exterior or another element shown on your house plan, use upward-facing lighting. To create a cozy atmosphere for entertaining, add downward-facing lanterns, bulb lights and other outdoor lighting options. Designers are getting creative in this area; for instance, you may choose to scatter softly glowing LED lights in the shape of stones around your patio area.
Choose weatherproof furniture.Look for innovations in wicker, PVC and other low-maintenance outdoor materials.
Add fire and water. In mild climates, a year-round fountain will create serenity, while a fireplace will draw guests to its cozy glow.
Design according to use. If you're a gourmet chef, a four-season covered deck with a built-in BBQ, as found in our Hendrick house plans, would be a great addition. This room has retractable large windows to keep out the cold in winter, while a large fireplace keeps the room cozy.
If you're seriously considering adding an outdoor living room to your home plans, now is the perfect time to check out custom home design services. A professional designer can create the perfect place for you and your family to relax in the mild spring breeze. Those who have made any kind of home plan addition can vouch for the fact that everything goes much more smoothly if the homeowner walks in with an idea of what he or she likes to do for fun, as well as with a vision for the outdoor space. As the doldrums of winter melt away, spend some time daydreaming about what you would like in your outdoor area. To get inspired, we suggest you review some of our home plans that offer elegant outdoor living spaces, including the Terrebonne or the Copper Falls (which has a vaulted outdoor living room, shown above).