Choosing a Designer for Your House Plans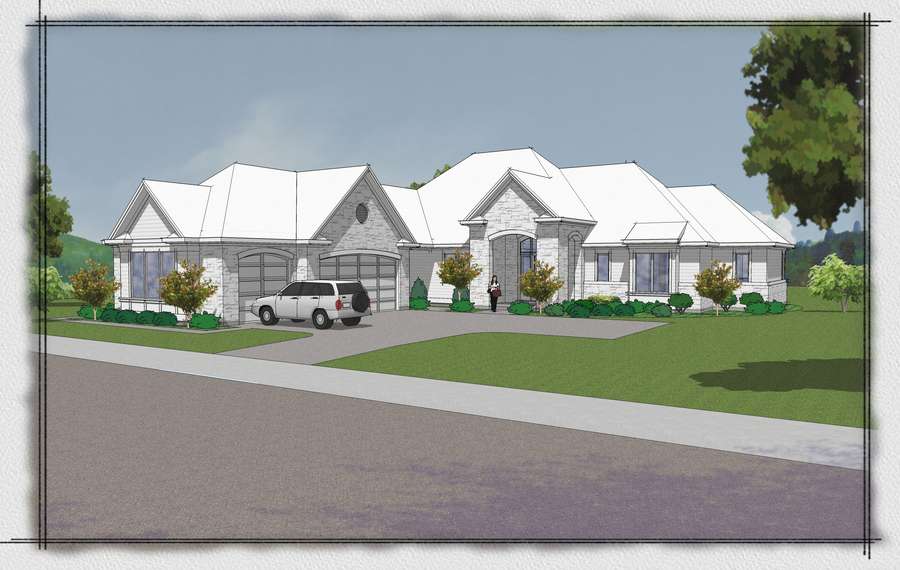 After years of saving, you're finally ready to build your dream house. Perhaps you've already purchased a lot where your custom home plans can manifest. Or maybe you're looking for a custom home design that can be built on nearly any property. Either way, you probably have a list of features that your dream house must include – and you'll be heartbroken if your chosen home design isn't everything you hoped it would be. To choose a trustworthy, expert designer who can create the perfect plans for your family, follow the tips below.
Tour Example Custom Home Designs for Each Designer
Do some homework on each designer you're considering. Check out the homes that have been built based on her or his designs. Ask for references from homeowners currently living in homes built from each designer's custom house plans. This kind of due diligence will help you weed out less trustworthy designers.
Focus on the Details
Many designers have creative ideas; fewer can actually translate those ideas into custom home designs that contractors can easily understand. Details are key – the more dimensions and materials listed in a custom home design, the better. You may even look for the option of 3D printing, which produces a to-scale model of custom house plans. The bottom line is that it takes some skill to produce a set of builder-friendly custom home plans.
Non-standard or incomplete floor plans will be problematic. Contractors won't be able to read them, or they'll have to guess at what the custom house plans intend, and costly errors may ensue. Therefore, partner only with designers who are professional enough to include all the construction information contractors will need to turn your custom house plans into a sturdy home.
Aim for Good Communication from the Get-Go
Good communication with your designer is pivotal to your future happiness as a homeowner. You should feel like you understand your designer well, and that you can trust him or her. Otherwise, your wishes might be misinterpreted, and you could end up with custom house plans that don't actually express your unique character. Another frustrating outcome: seeing your "unique" custom home design tweaked slightly, and then unexpectedly resold as stock floor plans. Address this possibility early on so you're not shocked to see your custom house plans applied to someone else's home. Many trustworthy designers transform custom home designs into stock house plans, but they address this issue with the homeowner in advance and alter the custom home design to make it more universal.
Check Compliance with Current Building Codes and State Certification
Local and federal building requirements are constantly shifting. If your custom home design isn't in line with current residential regulations, city officials could reject it. Ask each prospective designer about this issue directly, and check with references to make sure customers' opinions match each designer's claims. Finally, each designer should be able to verify his or her professional certification through your state; without these credentials, you could be looking at defective or even unsafe custom house plans.
Make Sure Your Designer Carries Liability Insurance
Let's say your custom house plan looked great on paper, but the resulting building is rickety due an architectural miscalculation on the part of the designer. Ideally, the designer's insurance would cover the rebuilding costs in this instance. Architects and engineers should carry insurance to protect their clients against costly mistakes. Protect your custom home design investment by asking each potential designer about his or her liability insurance.
Choose a Designer Whose Style Matches Your Own
Don't expect your home designer to suddenly change his or her preferences according to your style. Research the other homes that each architect has created. Consider the colors, styles and features you want, and choose a designer who tends to favor those same elements. For instance, if you want a romantic Tudor-style home, it wouldn't be wise to hire a designer who has only ever created minimalist, modern homes.
Favor Architects with Experience Designing for Your Type of Lot
Although many homes are built on flat land, it's not unusual for a custom home design to be slated for sloped or otherwise unusual property. Indeed, those who plan on custom-building their homes often select sloped sites that offer spectacular views. As you can imagine, special design considerations must be taken into account when designing a home for a steep slope; other unusual elements pose their own design challenges. Exceptional designers can create custom home designs that complement the natural surroundings.
For instance, Frank Lloyd Wright chose to build the Fallingwater house directly over a waterfall so the residents would always be able to enjoy the natural music the waterfall created. Don't expect your designer to be quite that innovative, but do ensure that he or she has experience working with your type of property.
Note: The home shown above is The Bridgeview House Plan 1239.