Four Elements of Modern Farmhouse Design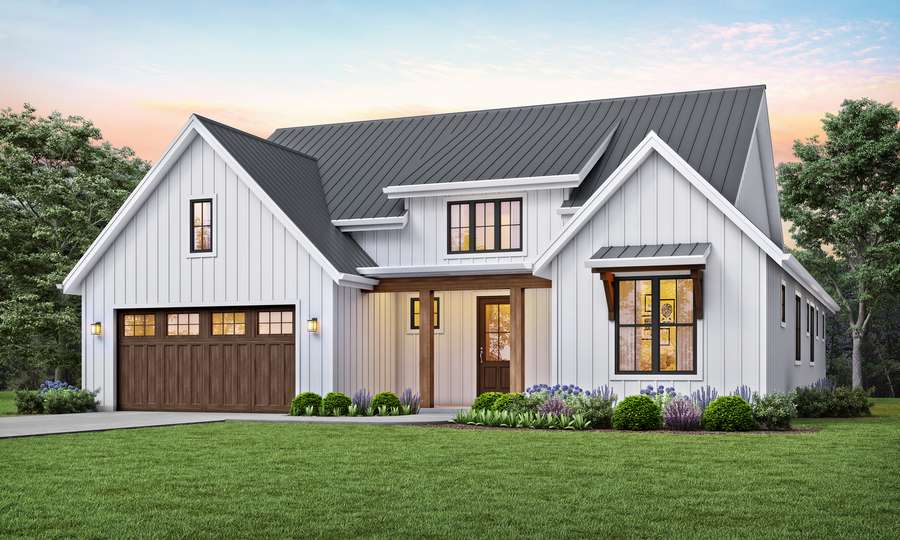 Known for warmth, invitational draw, and traditionalistic design, the farmhouse-style house has been a popular favorite in home design for a really long time. The modern take on this traditional home design is slightly stepped up from tradition, with clean, contemporary lines and simplistic features. Check out some of the telltale elements you should expect to see in a modern farmhouse design while you are shopping for house plans.
Open Kitchen Plans with Traditional Features 
The tradition of the kitchen being the heart of the home carries itself well into the modern farmhouse design. In most of the homes with this particular designation, you will find open kitchen plans with a lot of traditional features that are simplistic and highly approachable. For instance, your cabinetry layout will likely be along one wall with open cupboards and shelves for extra storage. Shaker-style cabinetry is a popular farmhouse kitchen choice. It is also common for the open kitchen floor plan to have a dining space or breakfast nook incorporated. 
Natural Light from Every Angle
The modern farmhouse is meant to feel warm and inviting; a little like visiting grandma's house on a Sunday afternoon (except with far more modern luxuries). Natural light flooding into the main rooms in the house helps to make the home feel more open and warm, so a lot of modern farmhouse layouts enhance and encourage natural lighting throughout the house. You may find things like:
Floor-to-ceiling windows in the sitting area or living room
Large bay windows in upstairs foyers 
Overly sized windows in the kitchen 
Doors with wide-angle views of the outdoors
Vaulted Ceilings in Key Areas
Vaulted ceilings are not necessarily something that originates from farmhouses per se, but a lot of traditional farmhouses do have taller than usual ceilings. A modern version is taking the ceiling and making it more of a focal point in the house, specifically in certain areas. For instance, the kitchen may have a vaulted ceiling with thick wood beams and trusses exposed. On that same note, cathedral ceilings are often found in great rooms or foyers for a touch of dramatization in the main living space of the house. 
Integrated Front Porch 
You would be hard pressed to find a farmhouse in the old days without some type of front porch, and that same architectural element is present in modern designs. It can be a full-on wraparound with ample space for sitting, a cozy nook at the front door to protect visitors from the weather, or some other style, but the front porch will almost always be an integral part of the home's design. 
Simplicity, comfort, and flexibility make modern farmhouse designs one of the most popular house plan choices. If you would like to see a few examples of modern farmhouse style house plans, check out our website.