It's All in the Details - A Killer Bathroom Shelf Design!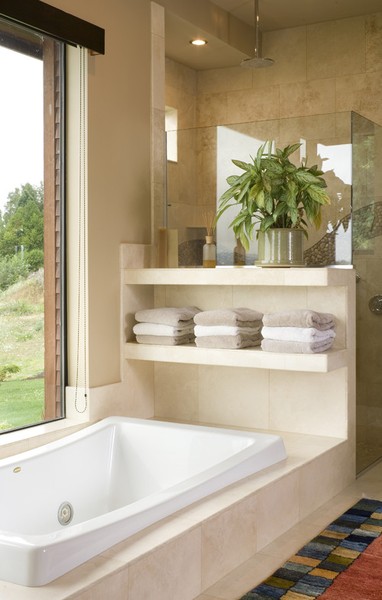 Imagine the convenience of not having to reach for a towel when you're ready to step out of the bath. You don't have to reach for your cosmetics, either -- they're right there on a convenient shelf within easy reach of your bathtub. Such is the practical side of the stunning and creative bathroom shelf design by our director, Eric Schnell. Once you look at this design, you'll realize that it's not only convenient, but also very attractive.
This shelving unit is built into the frame of the tub. It features the same tile as the rest of the tub deck, which gives the room a unified appearance. Two shelves give you plenty of space for towels and other items that you'll want to reach after your bath. Of course, if you were to customize this design, you could add even more than two shelves.
Another nice feature of this shelving design is that it provides a natural separation between the bathtub and the shower. You don't have the wasted space of a plain wall. Instead, the wall is serving a distinct purpose. You can even use it to hold special decor that adds an element of luxury to your bathroom, such as a potted plant or unique sculpture.
A part of the Aurea home design (plan 2453), this shelving unit is extremely popular on Houzz.com and has been added to over 150,000 ideabooks! We think you'll like it too, and we also have plenty of other creative home design ideas to share. At Mascord, we focus on the most sought-after architectural designs, creating house plans that meet a wide variety of family needs. You can glean ideas from a mix of plans, and let us work with you to make changes to plans so that they fit your needs perfectly. From the bathroom shelves, to the roof, we can make your creative home design ideas a reality.
Feel free to contact us if you have questions about our services, house plans, or design experience.