Remodel Design Services
In our third decade in business, our designers have created plans for the homes of well over 50,000 families. Over time, the needs of those families have typically changed, and many have returned to design new homes or remodel their existing one. Once again, we are able to work together to address their needs — outstanding design, careful attention to structure and code issues, and proper integration with existing architectural style.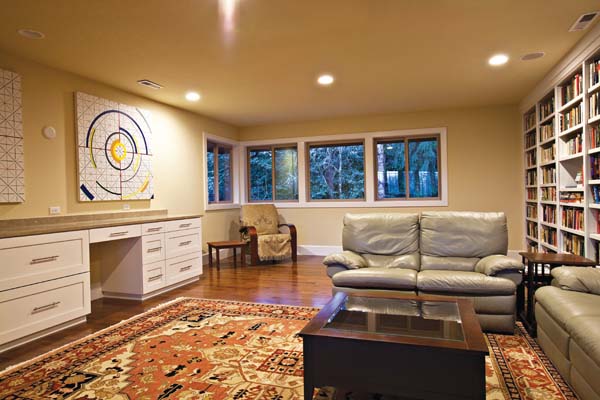 Photo Courtesy of T.H.E. Remodel Group
Odd as it may seem, the recent dramatic downturn in new housing construction and decline in existing home values has created opportunities for homeowners whose homes no longer serve their needs. Some are finding excellent land values and low cost of construction — for them, a new, efficient and sustainable home, tailored to current needs, may be possible. For others, the answer is a remodel, to reshape their current home to meet a number of typical goals. For example:
Adding space to accommodate a growing family (children)
Addition of storage space or garage space (new hobbies, interests, etc.)
Repurposing space from one use to another (changing lifestyle — e.g. play rooms to media rooms)
Creating a home office (changing work and commuting patterns)
Creating main–floor living space (easier living)
Adding a guest suite (parents coming to live with children)
Creating outdoor living space (entertaining)
Enhancing and updating for style and energy efficiency (reduced overhead/maintenance)
Whatever the changes, whether simple design of the structural shell, or coordination of interior designers, landscape architects and other professionals, our staff is ready to help. And the process is really quite simple:
Gather your team together — we recommend involving your builder as early in the process as possible
Assemble as much information as you can about your project — sketches, pictures, existing blueprints, etc.
Meet with our staff to define project goals and scope.
Give us a call and we'll help get the process started — and together we can bring your vision to life. We are ready for you!
Here are some links you might find useful when considering a remodel project: