3 Different Takes on Prairie Style Homes
The Prairie style was pioneered by Frank Lloyd Wright during the early twentieth century. Wright drew inspiration from the wide, flat landscape of the American Midwest to create buildings that not only blended with their surroundings, but also complemented them. With low rooflines with large overhangs and simplistic designs, this style – despite being more than a century old – has a lasting contemporary look that makes it at home among other, newer home styles. If you're interested in Prairie home plans, here are some of our favorites twists!
The Mercer
Few homes connect with their surroundings as well as the Mercer. The wood and stone exterior give this home a natural look, while the low, gently sloped contemporary roof and overhangs beautifully complements open landscapes. Large windows and sliding glass doors in the great room, nook and master bedroom let you enjoy the endless view. Inside, you'll find plenty of built-in amenities – shelving, a media center, a dresser for the master bedroom, a wet bar and more.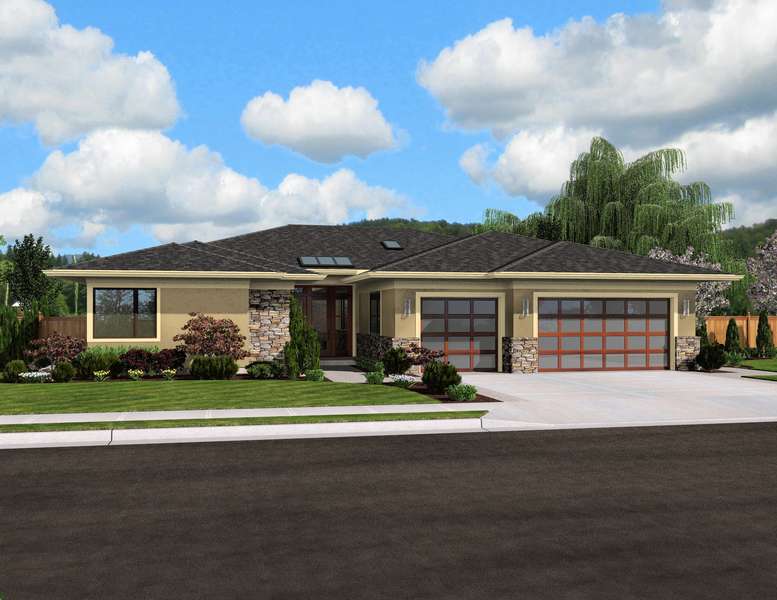 Plan 1245 - The Riverside
The Riverside
The Riverside is a beautiful blend of Prairie and Ranch styles - a Mid-Century Modern. The simple exterior design is balanced by a multi-gabled roof that adds just the right amount of interest to the home. A covered porch to the rear of the home gives you an excellent place to enjoy the outdoors while staying out of the sun and rain. With several walk-in closets, built-in shelving units, a fully fleshed laundry room that doubles as a mudroom and other amenities, this home was designed to make your life easier and more comfortable.
Plan 2453 - The Aurea
The Aurea
If you're looking for the ultimate Prairie-style home, the Aurea may be the perfect fit. This home's long, asymmetric shape fits beautifully into flat, open landscapes. The front of the Aurea is closed enough to give you a sense of privacy while the rear of this home features long walls of windows. With four bedrooms, three full baths, a combined kitchen and family room, a living and dining area, a home gym and more, the Aurea gives you every convenience you need along with the luxuries you want.
If this style interests you, feel free to browse our extensive collection of Prairie home plans. Among these plans, you'll find not only traditional Midwestern-style homes, but also homes made to fit hillsides and other natural landscape contours. No matter where you live, you can enjoy the beauty and simplicity of the Prairie style!