Bungalows from Bad to Beloved: Craftsman House Plans Then & Now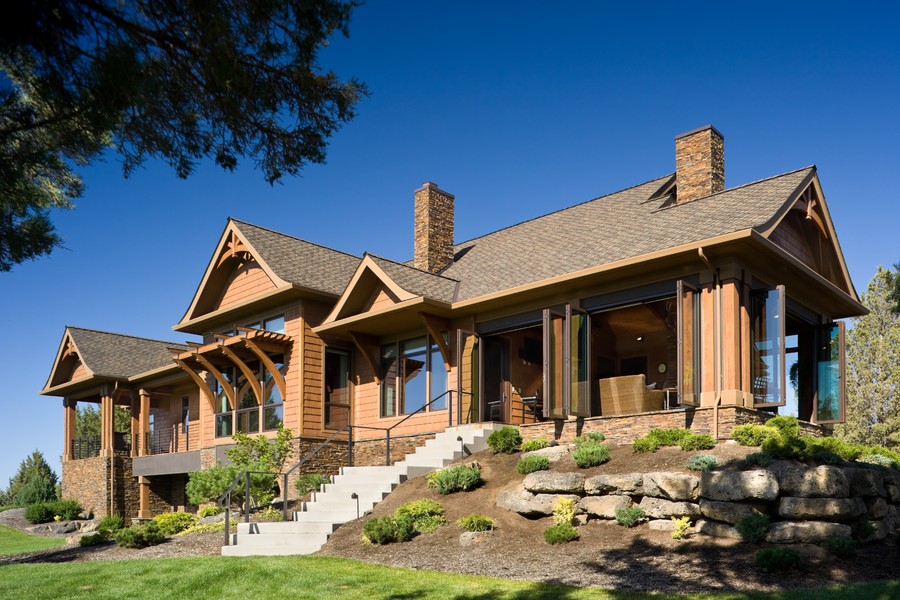 Most Realtors would agree: the Craftsman style is popular among today's homebuyers. But that hasn't always been the case. The original Craftsman bungalows were popular from 1905 until about 1930. But in 1921, a group of Minnesota architect activists known as the Architects' Small House Service Bureau (ASHSB) denounced the Craftsman style. They were leading the movement away from the Craftsman bungalow, and toward the Colonial revival. Later on, the bungalow would again surge in popularity; as with many home styles, popular preference has swung like a pendulum for and against Craftsman homes. Let's take a look at the love/hate relationship that America has had with the Craftsman bungalow.
First, we need to define just what constitutes a Craftsman bungalow. Here are a few of the features commonly found in Craftsman home plans:
Generous covered front porches with tapered, square columns. Piers supporting sloped (battered) posts are also found in many original Craftsman homes.

Exposed rafter ends and knee-braces, adding visual interest for the deep eaves common in Craftsman bungalows.


Preference for natural materials such as wood and stone, as well as muted natural colors such as earth tones and grays.

A low, ground-hugging profile, particularly for bungalows.


Patios, porches, and sun porches connect the bungalow interior to its exterior surroundings.

Exterior chimneys with small, high windows on each side.

Artistic naturalism—a tendency to use materials from near the building site, and an appreciation for handcrafted materials.
The Arts and Crafts movement of the early 1900s was the main influence on the Craftsman bungalow style. Many contemporary bungalow advocates saw the simple, solid Craftsman style as a departure from the frilly Victorian look of the previous era. Arts and Crafts advocates such as Gustav Stickley (whose magazine The Craftsman actually gave this home style its name) were also rejecting the Industrial Revolution's mass-produced goods and poor treatment of factory workers. The Craftsman home was not only a stylish place to live—it represented an entire ethos of simplicity, connection to nature, and craftsmanship.
So why did those Minnesotan architects pooh-pooh the Craftsman bungalow? Overall, they decried the Craftsman home as "Bad Taste and Waste," while their corrected version of the home they labeled "Good Taste and Savings." Here are a few Craftsman features, along with the ASHSB's criticism of each element:
Brick Balustrades were called "clumsy, crude" and "out of scale." The Minnesotans preferred lighter, non-brick materials for exterior detailing.

Exposed Rafter Ends, a cherished Craftsman feature today, were dismissed by the ASHSB as purposeless features that add "expense for millwork and labor."
Solid Porch Posts found on most Craftsman house plans were deemed by the ASHSB to be "pudgy, bulbous, [and] unnecessarily large to support the roof."

Bay Windows often found on the sides of Craftsman designs were "protrusions that add an uneven, chaotic, bumpy appearance to the exterior," according to these hypercritical Minnesotan architects.

Of course, these very features are the ones that today's American homeowners cherish. The solidity and clean lines of Craftsman homes make them easy to adapt to many different styles; your Craftsman might have a cottage feel or even a Spanish colonial flair. Modern American homeowners also appreciate the green approach that's endemic to the Craftsman philosophy. Just as the original Craftsman builders looked for local materials to incorporate, today's Craftsman builders often look for recycled local materials to include in new Craftsman homes. The inclusion of indoor/outdoor features in Craftsman homes also appeals to the modern homebuyer. Finally, the popularity of great rooms and open floor plans definitely originates with the Craftsman style. Despite a dip in popularity during the middle of the 20th century, Craftsman homes have proven their stylistic staying power as this continues to be a popular style among current homebuyers. We invite you to peruse our top Craftsman house plans!

Note: The home shown above is The Hendrick House Plan 2467.