How Traffic Patterns Influence Home Designs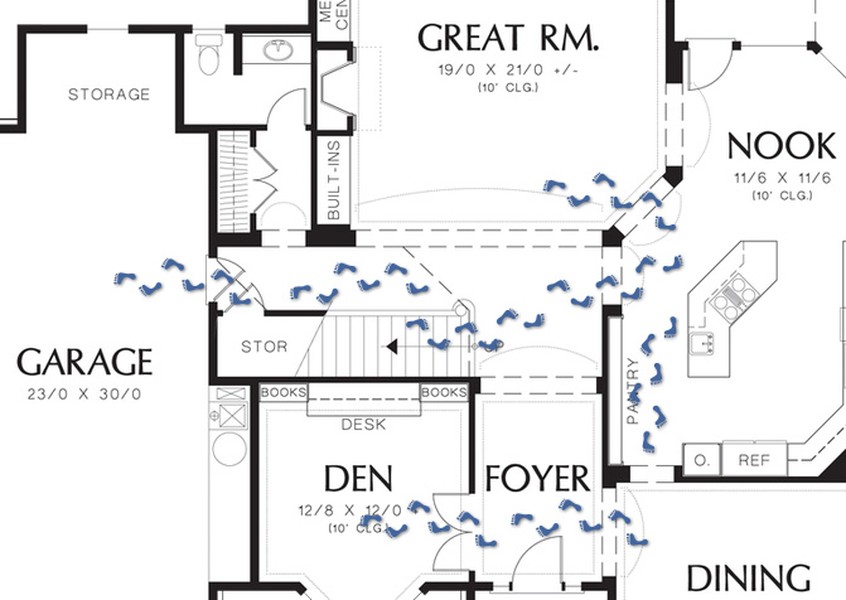 Traffic is a major consideration in any home design, and we're not talking about the traffic outside your kitchen window. Interior traffic patterns –the routes a family uses to navigate the inside of a home – must be carefully thought out when choosing house plans. When constructing a custom home, it's important to keep in mind a few key traffic factors, including:
Efficiency. A major goal in any custom home design is to create an efficient traffic pattern. This means minimizing crisscrossing through major rooms and preventing "traffic jams" between occupants. It also means placing rooms in a way that makes sense for the family using the home. For example, if your kids head straight to their rooms after school, placing a staircase near the entryway might be ideal.
Convenience.Convenience is another important factor in custom home designs. For example, designers of custom house plans will take into account everything from how much of the house you have to traverse to bring in the groceries to how far guests have to travel to make it to the bathroom.
Safety. The traffic within a custom home design may not travel as fast as on the freeway, but there is still plenty of room for injury. Walking between the kitchen and garage with hot or sharp objects, for example, can be a recipe for disaster. Those who create custom home plans try to anticipate these potential dangers and bypass them with safer traffic patterns.
Areas of the home that annoy or frustrate family members will often go unused. The purpose of a custom home design is to create a space that's fully functional from top to bottom, and well-planned traffic patterns play a big role in making that happen.
Note: The floor plan shown above is from The Campbell House Plan 2369.