The Modern Ranch: Offering Maximum Efficiency & Open Floor Plan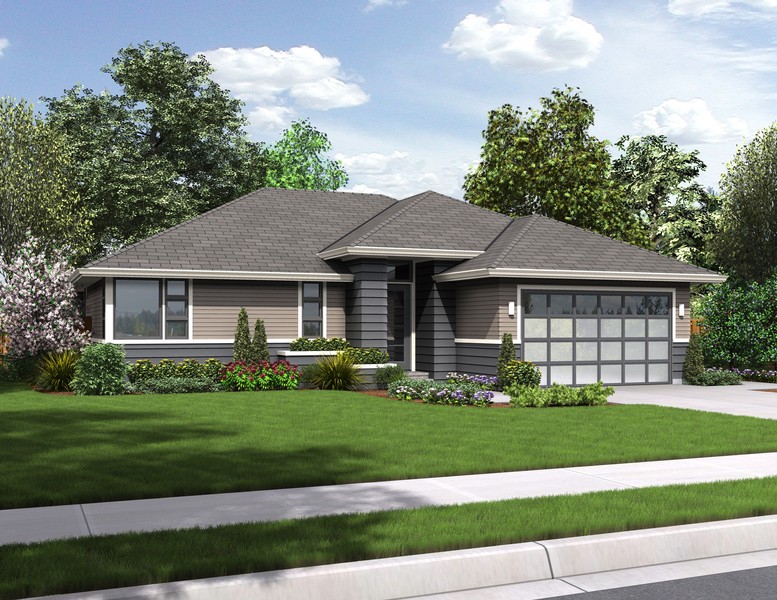 The Modern Ranch is one of our best-selling ranch house plans. This single-story beauty has dozens of thoughtful, contemporary design touches. Its up-to-date open floor plan includes a beautiful shared space with a rear-facing great room, open to the kitchen and dining area. A covered patio in the rear allows for elegant indoor/outdoor living. This is the perfect floor plan for empty nesters and age-in-place enthusiasts, as everything is contained on one level – yet it's also large enough for a family, with the option of three bedrooms. (The third bedroom can also serve as an office.) Let's take a tour of these ranch style house plans.

The façade of the Modern Ranch is clean and elegant. To the right: a two-car garage. The covered entry in the middle boasts 11-foot ceilings and a built-in recycling center as well as a coat closet. The lines of sight in this design are ingenious; upon entering the home, the sight of the great room, with its wall of windows, beckons you forward.

Should you wind to the left, you'll discover the L-shaped kitchen with a central island; cooks will feel like part of the action here, as the kitchen is open to the great room. Same goes for the dining room – no wall divides it from the rest of the shared space, making for easy entertaining. A covered patio is located next to the dining room, and the office (or third bedroom) is next to that as you work your way around to the left.

The two other bedrooms in this ranch design are placed to maximize privacy. The smaller bedroom has its own hallway and bathroom, just off the entryway to the right. The master suite is tucked into the rear right corner of the home and features 9-foot ceilings and corner windows. The master bath has two sinks, a spacious shower and a walk-in closet. Another small hallway connects the master suite to the shared area, directly across from the kitchen. A pantry and linen closet are situated in this hallway to maximize storage and reduce clutter.

All in all, this intelligently designed ranch style home plan packs a plethora of convenient features into a charming, accessible package. As we finish our imaginative tour of the Modern Ranch, take a moment to imagine your family enjoying this home throughout the seasons. Summertime barbecues would be easy with the covered porch, and even nasty winter weather wouldn't be unwelcome with a fire crackling in the great room's fireplace. If you're looking for a single-level home that's easy to heat and comfortable to live in, the Modern Ranch could be your dream home.