Mascord Top 10: Ranch House Plans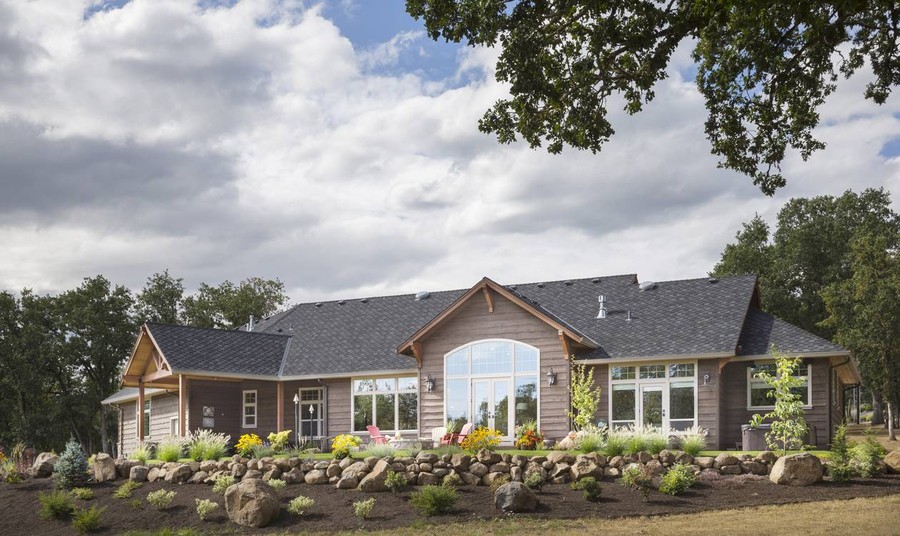 There's plenty to love about ranch homes—they're functional, great for growing families, and excellent for aging in place. The single-story, long façade of the classic ranch style house plan makes it easy to add on additional rooms as your family grows. Finally, because ranch floor plans tend to be simple and clean, it's simple to add your own style to this type of home. Check out our top ten best selling ranch house plans.
The Westfall House Plan 1250: The Westfall combines the beauty of the Craftsman period with the functionality of a ranch to create an elegant living space. The Westfall boasts a columned front porch, and a wide-open "family triangle," including a vaulted great room with exposed beams. This plan offers room to spread out, with an office, a den, a three-car garage, and a covered back porch.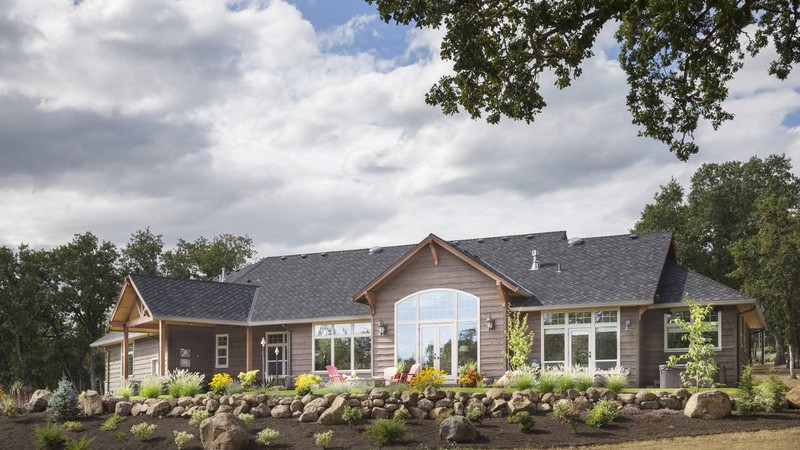 The Westfall House Plan 1250
The Lincoln House Plan 1245C: The Lincoln features plenty of flexible living space including two porches, an office, and a large garage. A covered back porch makes for year-round indoor/outdoor living. The wide-open kitchen/dining/living room makes this ranch home plan feel spacious and airy.
The Lincoln Home Plan 1245C
The Ripley House Plan 1248: This stylish, welcoming home is great for those who love to live al fresco. A vaulted outdoor living room located just off the indoor vaulted living room creates a seamless transition between indoor and outdoor living spaces. The spacious, comfortable Ripley design also includes a luxurious master spa, three bedrooms, 2.5 baths, an office, and a two-car garage. In addition to the ingeniously designed main floor—everything on one floor, for easy age-in-place living!—there's also a bonus room above the garage. Will you use that space for hobbies? Multigenerational living? Or just storage? In any case, the Ripley has a flexible, single-story floor plan that can gracefully adapt to your changing lifestyle.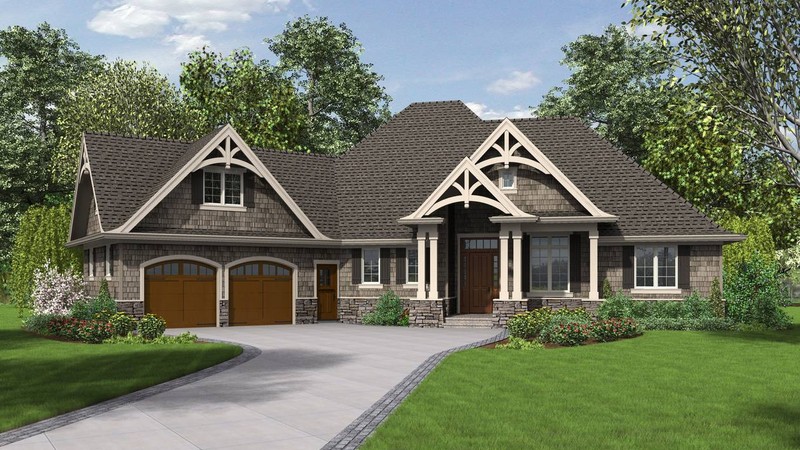 The Ripley House Plan 1248
The Halstad House Plan 22156: This Lodge/Craftsman design offers generous space, including a 3 car garage, a large master bedroom on the main floor, and two bedrooms on the upper floor, plus a light-filled bonus room. The Halstad is a charming home with dormers, shake and stone siding, an angled façade, and an inviting double-gable roof. You'll love the unique master bath, with twin sinks separating the walk-in closet from the luxurious spa and shower. The U-shaped kitchen is enchanting; its island offers counter-height seating on one side, and it faces the open dining room and great room, allowing the chef to be part of social happenings.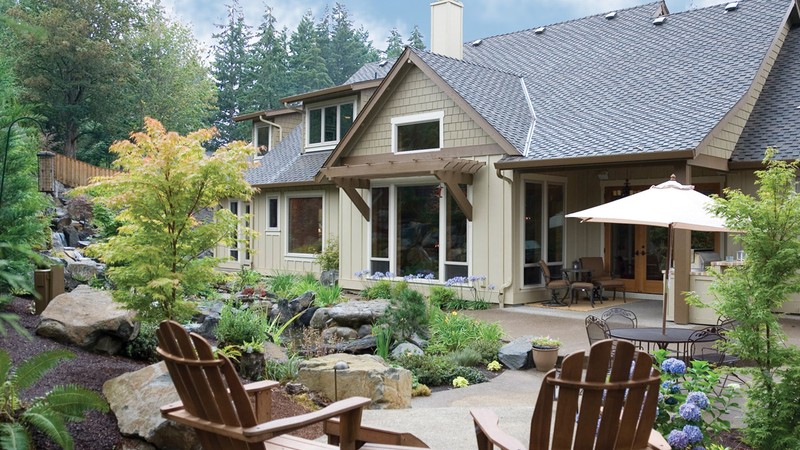 The Halstad Home Plan 22156
The Ashby House Plan 22157AA: Breathtaking features in the Ashby include a vaulted great room, a formal dining room, three bedrooms, an eating nook, and a three-car garage. An upper story storage space allows for clutter-free living. However, the Ashby offers so many built-in storage features—there are built-ins in the great room, dining room, office, and nook—that you may not need to store as much as you think upstairs.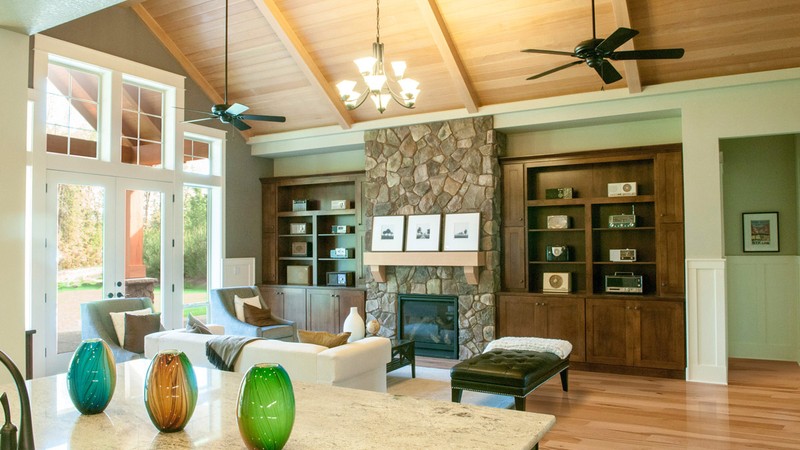 The Ashby Home Plan 22157AA
The Galen House Plan 1231: A version of this traditional plan was showcased in the 2006 Central Oregon Builders Association Parade of Homes and earned a Best Value prize for its price category that year. This one-story plan is perfect for rustic settings—every room in the home contains large windows (with the exception of the garage). This Craftsman-farmhouse design features a cozy covered back porch, cedar shingles in the gables, and stonework at the foundation line. The Galen also includes an extended garage with extra shop space, a vaulted master bedroom and vaulted great room with exposed beams, and plenty of options for built-in storage. You can also select to add on a 784 square foot basement and a 400 square foot bonus room above the garage.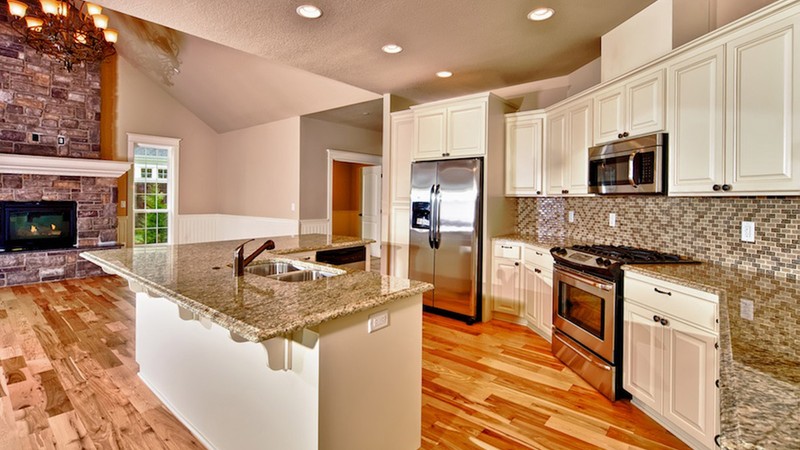 The Galen Plan 1231
The Hayword House Plan 1149: The two-bedroom Hayword is perfect for empty nesters and those who love compact living. Don't get us wrong—"compact" does not have to equate with "cramped." The Hayword's open floor plan, copious windows, and central vaulted great room with exposed beams create a feeling of roominess throughout. The great room also includes a media center and fireplace. Gourmands will love the ample kitchen, with its angled bar overlooking the open dining area/great room.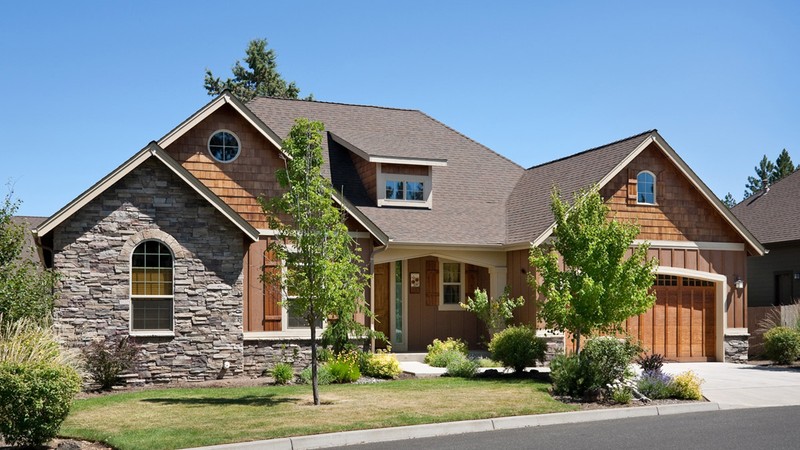 The Hayword Plan 1149
The Riverton House Plan 1144B: A shop, a den, three bedrooms, a covered outdoor living space, and a stunning vaulted great room; the Riverton packs all this into 1873 square feet. The exterior features a high roofline, shutters that flank tall windows, and arches over the front porch to lend extra charm. Beauty meets function in this design; you'll find plenty of linen, coat, and storage closets throughout.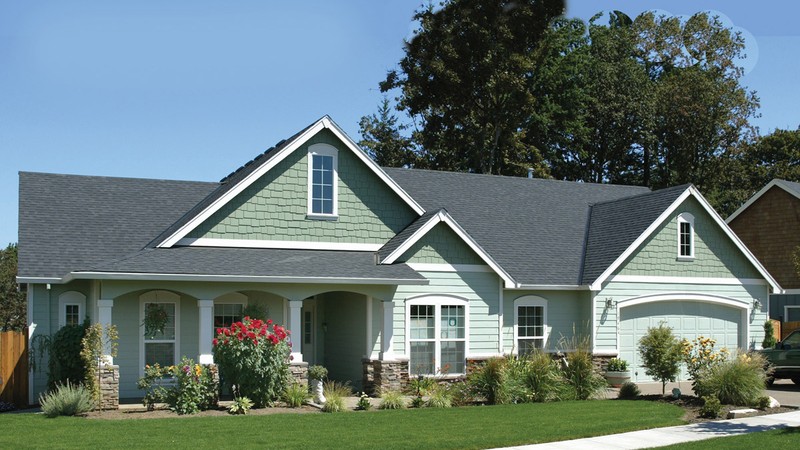 The Riverton Plan 1144B
The Godfrey House Plan 1146: This cozy design includes two covered porches, and two bedrooms, with the option to turn the den into a third bedroom. The master suite boasts stunning features, such as double sinks and a separate tub and shower. The Godfrey's vaulted great room overlooks a covered porch. This shared space is also open to the dining room and kitchen, creating the perfect place to entertain or just spend quality time with family.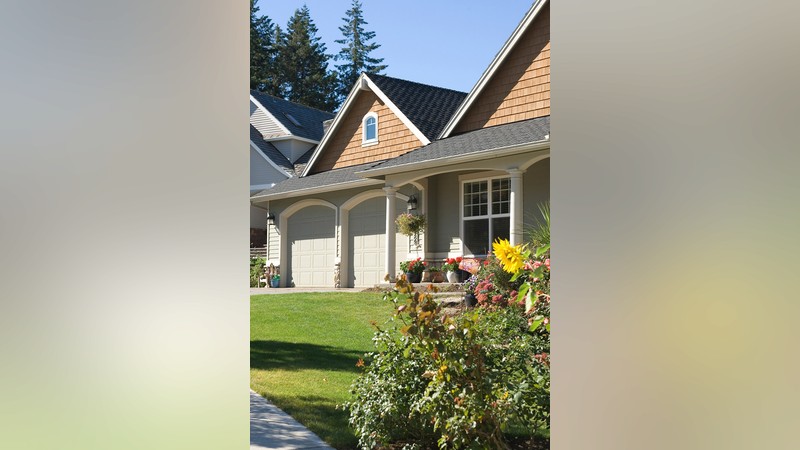 The Godfrey Plan 1146
The Morton House Plan 1152A: Design elements include Cottage and Craftsman styles, with high ceilings and covered porches in front and back. This enticing home is packed with many thoughtful features, such as a utility washer/dryer alcove with closet, and plenty of built-in storage. The kitchen and dining area also open to a large vaulted great room that includes a corner fireplace.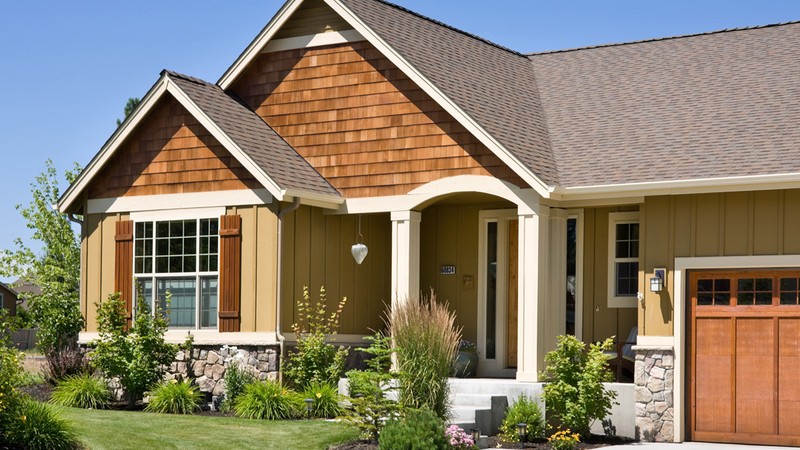 The Morton Plan 1152A
Gallery
Photographed Homes May Include Modifications Not Reflected in the Design