Ranch House Plans Re-examined: Cliff May's Innovative Style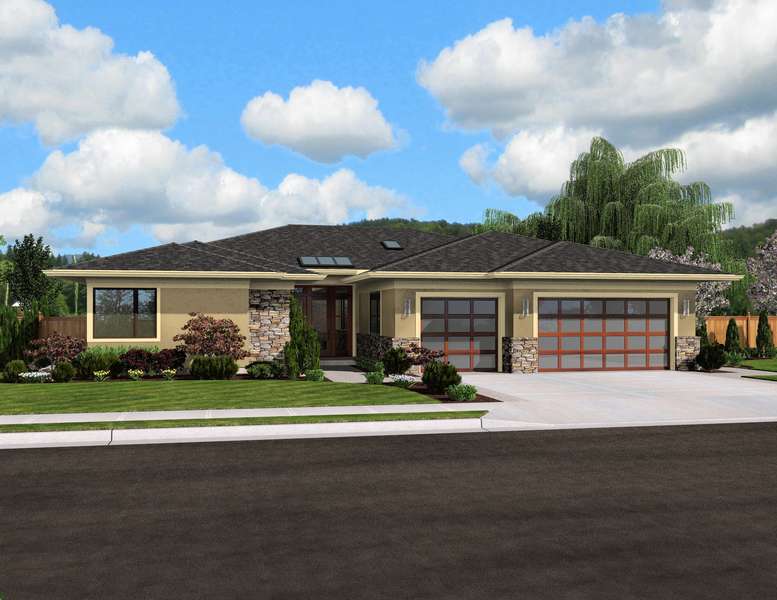 Home with a Garden in Every Room---that's how the San Diego Union aptly described original Cliff May ranch house plans. Cliff May (1909--1989) was the architectural father of the Californian ranch home. He began designing homes in the San Diego and Los Angeles areas in the 1930s. His goal was to design homes that could take advantage of the spectacular local climate, with more than 300 days of sunshine per year and an average high temperature hovering around 75 degrees Fahrenheit. While May never formally registered as an architect, he was an extremely attentive home designer. He paid attention to how people used his homes—how they entertained on back patios, how they wanted to be able to connect socially with those preparing food—and altered his designs to better suit homeowners' preferences.

Cliff May's ranch style house plans are distinguished by the following features:
Connection to nature in every room, often via floor-to-ceiling windows and sliding glass doors. May considered many ecological factors when custom designing homes, including wind direction, nearby vegetation, and even sun angles. Cliff May homes often had a central courtyard or a long motorized skylight to allow every room a connection to the natural world. Translucent walls in Cliff May homes extended natural light while still delineating different living spaces. For external natural spaces, May added low garden walls to provide privacy. Finally, he favored the inclusion of natural materials, such as stone and timber.

May was definitely ahead of his time on this aspect of home design. One early Cliff May advertisement encouraged homeowners to move in for just one penny down, and also pointed out the "private patio outdoor living room" that is highly sought after among today's homeowners. As architectural historian David Bricker puts it, in Cliff May designs, "nature was always just a few steps away."

Seclusion and comfort for families via rear-facing floor plans, motorized skylights, single lever faucets, whole-house intercoms, bathroom vanity cabinets and much more. May's homes are famous for their livability, regardless of home size. Privacy is maximized by placing bedrooms away from shared living spaces. Finally, May sometimes included movable walls (such as six-foot cabinets on rollers), which made it easy to re-imagine the open floor plans in his designs.

Combining Spanish Colonial Hacienda and Western Ranch styles. May was raised on a San Diego ranch, so it's no surprise that his homes combine these design schools. One feature that exemplifies May's melding of styles is his inclusion of covered passageways---corredores---that were common in colonial Spanish designs. These passageways connected rooms and further blurred the line between indoors and outdoors.

Affordable living for the post-WWII generation. Just as Cliff May's homes spread horizontally rather than vertically, his subdivisions sprawled across southern California. In addition to being an innovative home designer, he was a masterful salesman who realized he'd sell more homes if his designs were affordable and easily financed. Over the decades of his career, May's homes came to represent the American dream of homeownership. All in all, Cliff May designs were included in more than 18,000 tract ranch homes. He also designed and built dozens of custom homes and commercial structures.

May's career spanned from the 1930s to the 1980s. His designs were built all over the world, in Arizona, Colorado, Connecticut, Oklahoma, Texas, Kansas, Mexico, Ireland, Switzerland, and the Caribbean.  He was probably the most popular designer of ranch home plans. Their glamor, flow, and relaxed Californian vibe made his homes popular all over the world, and his style continues to inspire new designers today.