Why You Shouldn't Skimp on Home Office Space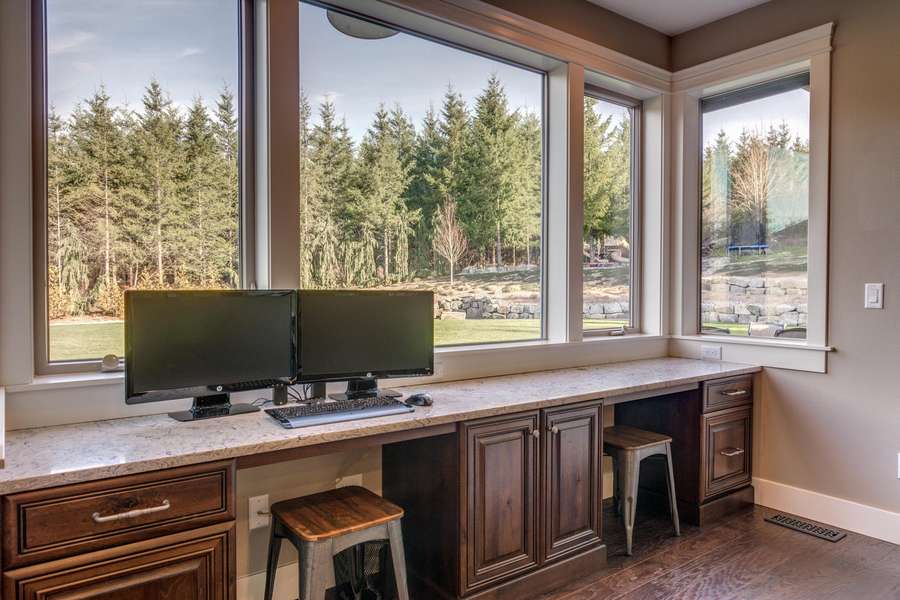 No matter where you look, you'll find evidence that working from home is on the rise. The U.S. Census, for instance, shows that between 1997 and 2010, the number of at-home workers increased by 4.2 million. When you count small businesses like construction contractors and other skilled tradespeople, then at least 30% of the American workforce does at least some work from their homes.
What does all of this mean in terms buying and building a set of house plans? It means that depending on your career choices, there is a very high likelihood that you could end up with a job that offers you flex days or even a full-time at home position. To that end, you should definitely be looking for house plans that offer you a professional home office.
How Much Office Space Do You Need?
In more than half of all modern families, both of the adults work. This means that you should definitely consider a home with not one, but two offices. Sharing an office sounds economical, but in actuality, the distractions posed by your partner could end up costing you in productivity. If you're a writer, for instance, do you really want to spend the day listening to your partner making sales calls or arranging shipments? Separate home offices give both of you space to concentrate on the job at hand.
Spare Bedrooms or Custom Offices?
When it comes to room for an office, there are a couple of things that you can do. One way to ensure that you'll have office space is to choose a home with spare bedrooms. Before you build, however, you may need to ask your designer to make modification to those rooms. You'll likely want shelving and cabinets rather than closets, and you may want to change the lighting and the locations of the outlets.
The other way to make room for an office is to have your home custom designed with office space in mind. The advantages to this are that you can guarantee strategic first floor offices so that you don't have to drag clients and colleagues upstairs or throughout your home, and you'll be able to add everything that you want, from windows and lighting, to built-in desks, cabinets and more.
Whichever method you choose — spare bedrooms or specialized office space — the advantage to an in-home office is flexibility. If you only work from home one or two days a week, or if you don't yet have an at-home job, then these spaces can easily double as hobby rooms or a studio.
Should You Build a Detached Home Office?
Of course, there are other alternatives to an office within the home. For some, a detached office is the right choice. Micro homes like the Squirrel or the Buckleberry give you a secluded space, away from kids, pets, the TV and other distractions. You'll also have a bit more space than the average home office, along with nice extras like a kitchenette, a bathroom and some storage space. Best of all, if you regularly hold meetings or host clients, a detached office will make a big impression.
The office is an essential part of the modern home. Even if the thought of a remote career hadn't yet crossed your mind, don't discount the possibilities that await in the future!