How to Find Affordable House Plans in a Tight Economy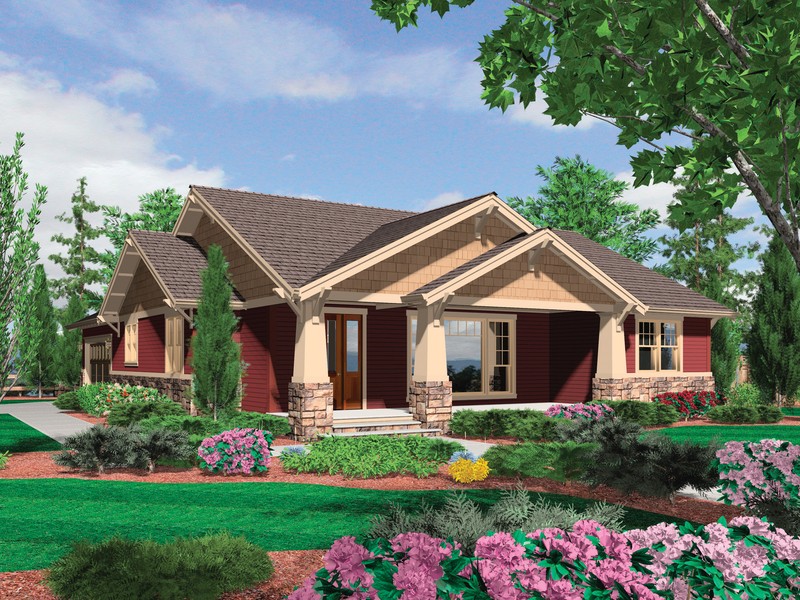 In today's weak economic climate, many would-be homeowners cannot afford to buy expensive home plans. Moreover, many people are looking to minimize construction costs and diminish ongoing maintenance expenses. Fortunately, even for a budget that's small, house plans can be found. Below are some tips for finding affordable house plans.
Prioritize Features
Make lists of "must-have," "nice-to-have," and "don't really need, but a person can dream" features. For instance, if you're planning to start a family, a minimum of three bedrooms would probably be on your "must-have" list. On the other hand, you may feel that taking a bath every six months or so is nice, but not absolutely necessary for your happiness – stick a bathtub on your "nice-to-have" list. Bathtubs, fireplaces and many other features add costs to home plans – do without them if possible.
Custom home plans are generally more expensive, since they require you to pay a designer for the time needed to create a unique set of blue prints. If you're looking for affordable house plans, it's best to buy a set that has already been created. Stock home plans aren't necessarily plain or boring. Indeed, you can find pre-designed home plans in a wide variety of styles, from Mediterranean to Tudor.
Go Small
Small house plans are actually all the rage right now. With soaring energy costs, high construction prices and the common craving for simplicity, it's becoming more and more nonsensical to build a so-called McMansion for your family. Smaller square footage means lowered construction costs and decreased maintenance expenses down the road. Plus, you'll minimize your carbon footprint by selecting small house plans.
Consolidate Plumbing Cores
As you search for affordable house plans, notice the location of water heaters, sinks and other plumbing fixtures. The fewer "plumbing cores" – i.e. water lines – the fewer water heaters, pipes, faucets and other materials you'll need. This doesn't necessarily mean you can't have as many bathrooms as you wanted; it just means the bathrooms, laundry rooms and other water-spouting locations should be back-to-back or stacked on top of each other. For instance, it would make sense to choose home plans with a back-to-back bathroom and kitchen, or a laundry room located directly underneath a bathroom, one story down.
Get Vertical
Adding on a story is less expensive than sprawling out horizontally. Avoid digging a basement, as this can make for sky-high labor costs. Instead, build up. If you need more space, the most affordable house plans will feature several stories stacked one on top of the other.
Include Built-ins to Give the Impression of Larger Square Footage
Small house plans are not incongruous with comfortable living. With smart design, even small house plans can "live large." Open floor plans are one way to make small house plans appear larger. Another approach is to include built-in storage in the design. Yes, this will require you to pay more in carpentry, but you'll save enough through reduced square footage to make it worthwhile.
Get Rid of Halls: The Advantage of Open Floor Plans
In some ways, halls are wasted space. Because they're simply passageways for getting from one room to another, you can't comfortably lounge in halls. And when you're looking for affordable house plans, every square foot counts. Remember, small house plans are less expensive in both the short and the long term. Therefore, it makes sense to eschew halls in favor of more open floor plans. If the kitchen, dining room and den are all connected, for instance, you won't have to dedicate as much space to halls. Moreover, open floor plans facilitate flow.
Favor Simple Rooflines
Eyebrow windows, gables and dormer windows are lovely but expensive. Most affordable house plans feature minimalist rooflines, which minimize costs.
Add More Space with a Patio or Deck
Adding livable outdoor space can help augment small house plans. In many parts of the country, a covered patio may be used all year long. Alternatively, a deck can expand your entertaining space.
As you look for affordable house plans, remember to favor simple rooflines, outdoor living areas, open floor plans, multi-story designs, built-in storage, pre-designed floor plans and small house plans. These are all techniques for limiting construction and maintenance costs.
Note: The home shown above is The Ellington House Plan 1154.